Monday, October 31, 2005
Lest you ever doubted that Harriet Miers was ever anything other than a headfake, Bush's latest choice is an about face on pledges to nominate a justice in the mold of O'Connor. Rather than someone moderate and female, Bush opts to solidify his standing with his base by selecting a reactionary fucking loon who also happens to be male.

Or claims to be male.

There's nothing funny about what we're in for: months of watching the Dems shake their fists and whine while a man is confirmed who will eliminate any chance I had of buying an abortion pill and eighth of weed at Rite Aid during my lifetime.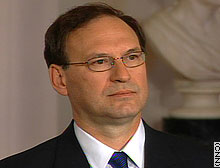 Samuel Alito, above, will subject your unborn fetus to a horrible life, made no better by marijuana.
Analogcabin @ 4:39 PM
Permalink |
-------------------------

Suppose somebody said to me, "Hey, goodlookin'. Can you come up with a way to kill yourself by doing something that will obviously result in electrocution, ala the toaster in the bathtub, that's also really fucking hilarious when pictured with the mind's eye?" Even I, comic genius that I am, couldn't come up with anything as good as grabbing a microphone while standing in a baptismal pool.

It just goes to show that nobody's funnier than God. Except maybe those Stuck On You guys. They're pretty funny.
Analogcabin @ 10:50 AM
Permalink |
-------------------------

Thursday, October 27, 2005
I'm not much of a sailor, but I sure do love seamen.

Hello!

Let's set aside the homostrionics for a moment, shall we? What I mean, of course, is that I love tales of Mother Deep and the men who ride her. Take this, for example. It's the story of 74-year-old Vincent Gillings, his 33 foot sailboat, and a powerful nor'easter -- which, though I'm no expert it oceanautics, I gather is some kind of storm.

This "nor'easter" blew Gillings off of his boat and into Davy Jones' Locker, or would have were he not wearing a safety harness. He was, thanks be to Neptune, and so the salt-licked senior hung like a teabag until some hours later a Coast Guard search and rescue crew found and retrieved him.

His boat? Some say when the "nor'easters" blow its ghostly sails can still be seen billowing.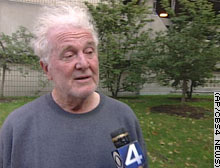 Vincent Gillings, above, is the picture of a man caught in a nor'easter if ever there was one.
Analogcabin @ 3:28 PM
Permalink |
-------------------------

Wednesday, October 26, 2005
I realize I haven't posted in a while, and I know it must be very difficult for you.

You wake up disappointed that you're the same idiot you were yesterday, but your disappointment turns to hope and excitement as you jump out of your empty, crusty single bed and not run so much as shuffle quickly to your computer. Another day, another million laughs, courtesy of The Spoonbender, you think.

The browser still contains all of the really upsetting images of women "tending" to livestock that you left there the previous night after collapsing into a heap of hollow satisfaction and deep, deep shame. You click on the Home button as your stomach tingles, your hands shake, and your knees recoil in anticipation of the slaps to come. The Spoonbender loads and you sigh when you recognize the car writing post that's been at the page's top for these many days. You've read it many times, but you read it again, anyway. And you laugh again. And your genitals become engorged at the idea of the man behind all this brilliance.

I apologize, but not much. Until tomorrow, pretend to be astonished at this.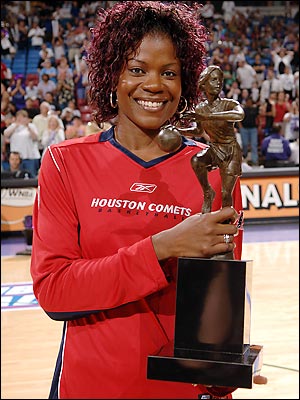 WNBA superstar Sheryl Swoopes, above, doesn't just pound the parquet, she munches the carpet.
Analogcabin @ 2:34 PM
Permalink |
-------------------------

Wednesday, October 19, 2005
There are a lot of really preposterous kinds of writing out there. Obviously poetry is the big one, but "missed connections" personal ads, porn reviews, and sports journalism are also really ridiculous. There are others, as well. Erotica, Conde Nast-style travel writing, fantasy writing, and blogging. Hell, I suppose that the roster of risible writing is limited only by our imaginations. And though I'd overlooked it before today, this piece proves beyond doubt that automotive reviews deserve a seat at that laughable table. It is a review of the 2006 Corvette Z06, and in the interest of letting the work stand on its own, I've excerpted sections from the article below.


The latest high performance 'Vette cranks it all the way up to... Yikes!

...

Fear.

The Corvette Z06's 7-liter 505-horsepower engine sounds like a lot of small things exploding. Find a short highway on-ramp, stomp on the gas, and the explosions start coming faster and faster, turning into a roar.

...

You stay in first gear -- the Z06 handles zero-to-sixty in as little as 3.7 seconds in this gear alone -- and the sound gets louder until there's an Alaskan brown bear riding shotgun and, man, he is really ticked.

...

Acceleration is catapult-quick.

...

The Z06 always feels a bit like Bill Bixby on the way to turning into the Incredible Hulk with buttons popping and sleeves tearing apart from the cuffs.

...

The car feels like it can't quite handle what it's got and it needs your help, please, to hold it back a little. It's largely an illusion of course. The Z06 takes care of itself just fine.

All in all, it feels very much alive and wide awake. And it's not happy.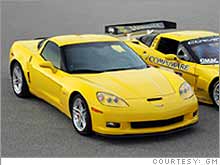 The Z06, above, is like a thousand forced metaphors jammed into a small space with a reader dreaming of death's sweet release.
Analogcabin @ 3:32 PM
Permalink |
-------------------------

Tuesday, October 18, 2005
The news here tends to be more Asia-focused than what I enjoy at home. Whether that's thanks to the Party or because the continent is home to the lion's share of the world's population, I can't say. What I can say is that I deleted the phrase "filtered by the unblinking Party eye" from a previous version of the preceding sentence because the metaphor is so hilariously and clumsily mixed. I can also tell you that, thanks to jet lag that's making me feel like I've been up for days, I've also totally lost my train of thought. Fortunately, I have this link to stoke the rapidly unsmoldering fire of my brain.

The article talks about how Japanese Prime Minister Ninjohama Hirosushi today visited some Shinto shrine memorializing his nation's war dead, and I know what you're thinking about it: Japan has a Prime Minister? Of course it does. He's recognizable because he kind of looks like Shaun Cassidy, except with gray hair. And Asian. Anyway, I know what else you're thinking: 'Shinto' is a religion? To that I must admit that I have no answer. I thought it was a Korean car company. But the details aside, apparently the visit was a big deal around these parts because the shrine commemorates Japan's WWII dead, and about 1000 of those whose names are listed on the shrine's rolls were war criminals convicted and executed by the allies after WWII.

Suppose for a moment that we didn't all realize that the Germans are still unrepentant Nazis. Further suppose that Germany actually had an officially elected leader, and that he or, stretch for it now, she went to Hitler's grave and prayed over it. How do you think the Poles would feel?

If you said "confused," you win. Because Polish people are dumb!
Analogcabin @ 2:30 AM
Permalink |
-------------------------

Friday, October 14, 2005
On Sunday I will return to China, and it may or may not have anything to do with this.

I hope to delight you with more of my tales from the Orient next week.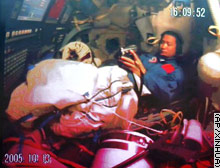 Analogcabin @ 2:46 PM
Permalink |
-------------------------

Thursday, October 13, 2005
There's about 30 million people, or 10% of the US population, who're thinking that maybe whatever happened on that swift boat isn't so important after all. Ah, well. Hindsight's 20/20.
Analogcabin @ 4:01 PM
Permalink |
-------------------------

Wednesday, October 12, 2005
It's no secret that I'm one of the nation's most beloved people. And why shouldn't I be? The Spoonbender has become an internet institution -- as venerable and respected as any blog, fansite, or message board out there today. And in my time authoring this greatest of places to wile away three to four minutes, I've seen a million news stories. And I have to admit that I've rocked them all. But you're not the only ones who have benefitted. Rocking all that news has taught me a few things. One of them -- the one that comes to mind today -- is that history repeats itself, especially when stupid people are involved.

It seems like only 15 months ago when I covered the birth of Jango Duggar -- the 15th child of Jim Bob and Michelle Duggar. Well, today Michelle shat out lucky number 16. The girl, Johannah Faith Duggar, can look forward to a life of being mistaken for a stranger on multiple occasions by three of her sisters, being diddled by the second most maladjusted of her brothers, being left in the grocery store twice and the Wal Mart three times, being forced to attend community college because her parents ran out of money sending child six, Jemima, to Indiana, and being the AVN award winner for Best Double Anal Scene in 2022 and 2023.

That's right at 17.

Happy birthday, Johanna. It's not your fault your parents are idiots, but you're sure going to have to pay for it.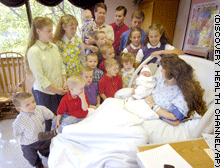 Johannah Duggar, above somewhere, gets mugged by a mob and wonders why she couldn't have been born to parents that aren't crazy, like the Tom Cruise and Katie Holmes.


Analogcabin @ 4:38 PM
Permalink |
-------------------------

Tuesday, October 11, 2005
It's clearly racist that the rest of the world views the Japanese as underendowed, ineffectual, infantile manchildren in silly headbands and diapers, playing with doodie and screaming nonsense until red in the face. But to be fair to the ignorant, it's not like the Japanese seem to be bent on shattering any stereotypes now, are they?

I'm sure you all remember my post on Sput-Nip -- the shatirite the Japanese managed to raunch after a couple of strikes not too long ago. Well they're at it again. This time the half-century old technology they're hot on reinventing is commercial supersonic flight.

The Japanese first tested their unmanned prototype in 2002, but that flight "ended disastrously when [it] dived to earth and exploded in the Australian desert." They finally flew the prototype successfully yesterday. In the wake of their success, a JAXA (Japanese Aerospace Exploration Agency) spokesperson said that it would "probably take another 15 years" for the project to become commercially viable.

The way I see it, 15 years is a little optimistic. I mean, it took them three years to recover from crashing the first prototype into the desert -- and that was basically a really fast model rocket. Now they've got to figure out how to put seats into the fucking thing.

For those of you who are curious, the Concorde first flew in 1969.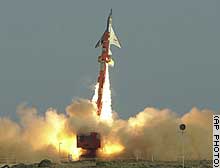 The second sushisonic model rocket, above, managed to avoid becoming a bloomin' onion in the Australian outback like its predecessor.
Analogcabin @ 10:26 AM
Permalink |
-------------------------

Thursday, October 06, 2005
For those of you who are avid fans that read The Spoonbender.com religiously, which of course is anyone who has had the great good fortune of reading it even once, you will remember my undeniably hilarious Nipsey Russell obit. You might also recall some falderall in the comments over one made by a certain "JTony" of JTony.com. Apparently he mistook my high-concept, cutting edge racial satire for genuine mistake -- a mistake he felt compelled to correct in the comments. As you can imagine, my many fans sprang into action and had much fun at the expense of JTony, and then we all went to sleep feel self-satisfied, if a bit empty. JTony was nothing but a memory not to be recalled until the Lord calls us to Judgment with mixed results.

So you can imagine my surprise when today, while playing poker at some weird site a friend passed along, who should "sit" next to me at the "table" but JTony himself. "Surely this is not the saidsame JTony," my handmaiden whispered, taking a break from oiling my mighty thighs. I slapped her insolent face before I asked him myself. Are you the JTony of JTony.com? I typed. He said yes.

Thinking quickly as I always do, I pretended to be one of the millions of fans of TheSpoonbender.com. I found your site by following a link from The Spoonbender, I typed. He replied that he was indeed a fan of The Spoonbender. "Of course he is," my handmaiden cooed before continuing her ministrations.

My next move was to call in my closest compatriot with plenty of free time: The American Mastodon. He joined me in the at the "table." What came next should be obvious: We chided JTony. We gushed over his website and inquired about his fame. At one point I promised to send him a picture of my balls.

I offer you this screen capture of the moment so that you can join with us in the fun-having.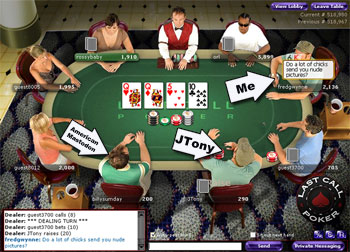 Click the image above to expand.
Analogcabin @ 11:12 AM
Permalink |
-------------------------

Wednesday, October 05, 2005
You rarely find comedy in sports articles, which I think is a bit of a shame. So when you do, it's all the more thrilling. I offer this to you as an example. The article is about Michelle Wie, the 15-year-old golf phenom. She turned pro today, and celebrated with a press conference announcing that she'll donate $500,000 of what's already an estimated $10 million yearly endorsement income to a hurricain relief fund.

I know what you're thinking, "So that's what a horsey Asian woman looks like! I didn't think it was possible, but there it is! And for that you should be ashamed. Simply because she smiles with lots of gum and has a name that even sounds like a horse naying is no reasons to make cruel jokes at the expense of a very sweet-seeming teenaged girl.

Unfortunately, pro golfer Tom Lehman felt compelled to comment in the same vein as you, assholes that you are. From the article:

"I've always felt like she's Secretariat," Lehman said. "You can give her minor adjustments -- adjust the bit in her mouth -- but it's like, 'Let her go.' She's that good."

"And when she wins, you just feed her a carrot and hope to hell she doesn't bite you hand while doing it," added Lehman.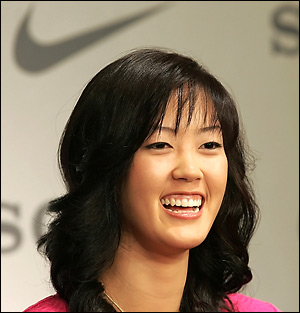 Michelle Wie, above, saddles up and canters her way into the LPGA.
Analogcabin @ 3:17 PM
Permalink |
-------------------------

Tuesday, October 04, 2005
Rest in peace, Nipsey Russell.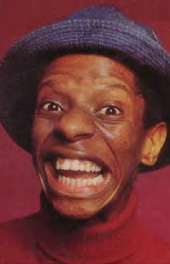 Analogcabin @ 4:05 PM
Permalink |
-------------------------

Monday, October 03, 2005
It's not that I'm a fan of suicide so much as I think it's kind of ridiculous to try to dissuade people from doing it. I'm not sure who it was, but someone said that suicide is the ultimate expression of personal freedom. I don't know if that's true, but in a time when the primary occupation of society as a whole seems to be insuring that the individual is relieved of all responsibility, I find maternalistic hand-wringings over the chosen fates suicide "victims" to be the zenith of absurdity. Of course I'd never undertake it myself -- I'm not cruel enough to inflict upon the world the hell on Earth that would be life without me. Nor would enjoy seeing anyone close to me do it. But the fact remains that, intellectually speaking, I support a person's right strap on a SCUBA mask full of carbon monoxide and dive into Davey Jones' locker.

That's intellectually. Practically speaking, I think we all can agree that the final act of a large percentage of suiciders is as irritatingly childish and self-obsessed as they were. It's like when a dork wears a Star Trek uniform. We all know you're a fucking loser. Wearing the communicator pin is just rubbing our faces in it. I'm talking about the anchormen who blow their brains out on air, the teachers who do it in class, the maligned employee who does it in the boss' office, and the lovesick also-ran who does it on the prom queen's lawn.

But the worst of the lot are the suiciders that try to make a big show out of it, but fuck that up, too. Take this University of Oklahoma student, for example. There's no doubt that it's sad he felt compelled to kill himself when I'll bet a $100 rub and tug would've given him a new lease on life, but he did. What's worse is that he did it by blowing himself up. And what's worse still is that he did it outside of a University of Oklahoma football game. I mean, he obviously intended for a great many people to witness his act. And yet he chose to do it outside of a stadium filled with 84,000 screaming idiots screaming their lungs out.

If you want Stevie Wonder to know you think he's an asshole, you don't flip him the bird.
Analogcabin @ 3:39 PM
Permalink |
-------------------------