Tuesday, November 25, 2003
As I prepare to return to my ancestral home for Thanksgiving, I was inspired to publicly give thanks that I'm not Glen Campbell.

It has been widely reported that Campbell was arrested for "extreme drunk driving" at 5 pm yesterday, lending merit to rumors that Campbell followed up his hit CBS series The Glen Campbell Goodtime Hour with The Glen Campbell Goodtime Happy Hour. He was once a lineman for the county, now, sadly, he can't even walk a line.

As an expression of my thanks for not being Glen Campbell, I plan to record song parodies over the holiday. They will include "Wichita Wine-man," "Wine-stone Cowboy," and "By the Time I Get To Phoenix (Jail, I'll Be Drunker Than a Fucking Monkey.)"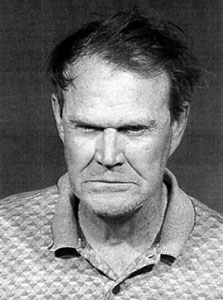 Perhaps I'll post over the holiday and perhaps I won't. Enjoy it, unless you're not American, in which case you should kiss my red, white, and blue ass.
Analogcabin @ 2:04 PM
Permalink |
-------------------------

"Being mute's not that bad. I mean, if I had to have a sensory handicap, it'd be mute. Except not being able to smell, but I don't think that even counts as a handicap."

Mute dismissiveness. We've all heard the above kind of uninformed prattle millions of times. But if ever a story brought into stark relief the dangers of being mute, it's this one. When was the last time you heard about a deaf person being sold as dog meat?

Link Via Wiggins
Analogcabin @ 7:11 AM
Permalink |
-------------------------

Monday, November 24, 2003
I'm probably opening myself up to ridicule beyond the normal volume by starting this post with an admission that I watch Ed.

Now that that embarrassing admission is out of the way, let's move on to something equally if not more embarrassing -- the use of the phrase "Spoiler Alert." If you haven't seen last week's episode, the one in which Ed proposes to Carol and the Burton's house burns down, stop reading a sentence ago.

It's fitting that the episode's B story involves Mike's father, played by Burt Reynolds, inadvertantly burning the house down while frying a Thanksgiving turkey because Burt looks like a burn victim these days. I assume I'd have heard something if Reynolds actually were caught in a fire, so I can only guess that the way in which his taunt and papery skin ripples and strains with the slightest movement is a result of plastic surgery.

His lips once formed America's best loved smile and parted to loose America's best loved laugh. Now those lips flatten and pull backward whenever he turns his head. They thin, go colorless, and curl into a snarl that reveals gigantic bridgework.

I hate you, Burt Reynolds. You've taken Burt Reynolds away from me.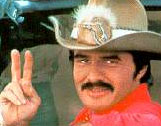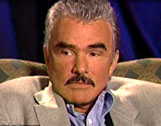 Analogcabin @ 12:00 PM
Permalink |
-------------------------

Friday, November 21, 2003
There are those that would say we're a society that worships celebrities, but that's clearly not the case. We loathe celebrities, and we thrill at their pain, failure, and decay.

So I'm being clear up front, I'm going to write this as though I speak for all of us, when obviously I'm projecting so that I don't seem like such a heel.

Of those three things, I think our enthusiasm for celebrity decay is the cruelest. Pain is pain -- everyone has some in their life, and no matter how deeply we repress it, we all whisper to ourselves, "...better him than me." The only difference is that, when it's celebrity pain, no one whispers it. Failure brings us the most joy because we see it as karmic retribution. The decay thing, though, is really sadistic. We elevate these people because they're pretty or bright or, rarely, both. But we all know that neither pretty or bright lasts forever. Especially pretty. And so we watch and giggle as the identity we've made for the celebrity molders.

It's like giving a baby an Ipecac-soaked lollipop. OK. It's not really, but what an image, huh?

Speaking of babies, the worst and best decay is the aging of a child star. Puberty smashes their once adorable faces, and we all laugh, laugh, laugh. Usually, anyway. Christina Ricci has been the rare exception. Though she spent a good portion of her teens teetering on the edge of catastrophe, she appears to have pulled through. Thanks almost entirely to her breasts.

Without those breasts, Ricci would be a slightly chubby girl that, caught in the wrong light or from the wrong angle, could easily be mistaken for a retarded person.





Not that looking a little slow isn't sexy in its own way, but it's not what's generally considered "classic beauty."

The boobs, on the other hand, are classics. She's been working toward whipping them out for a while now, what with the sheer dresses and bra scenes, but she's finally brought out the big guns in the upcoming Prozac Nation, and, baby, them boobies are beauties.

You may have pulled two on us on the way up, Christina, but we'll get you on the way back down.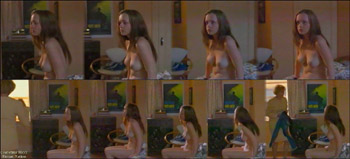 Image Via Stereogum
Analogcabin @ 10:07 AM
Permalink |
-------------------------

Thursday, November 20, 2003
I can't express how terrible I feel about the bombings in Istanbul.

So I won't try. Instead I'll take this opportunity to suggest that there might be a better way to determine the source of a noise than the method referenced in the following quote.

"We knew it was a bomb when an arm came flying through the window."
Analogcabin @ 2:17 PM
Permalink |
-------------------------

I leave town for a couple of days, and this happens. What's becoming of this world?
Analogcabin @ 12:27 PM
Permalink |
-------------------------

Monday, November 17, 2003
Ah, NASA. They're canny assessors of the human condition down there on the Cape.

Some claim that space exploration is fruitless. They say that it's foolish to continue to funnel billions into a dangerous enterprise that yields little more than information on the effects of weightlessness, as though that matters to a grossly obese nation. They say that that NASA's budget would be better spent on things like our decaying public schools and bombs to fling at folks that haven't met Jesus.

Obviously these ruffians don't understand a little something called "art." Sure, NASA works on a large scale, but so did Michelangelo. One of today's best loved artists, Mr. Tom Hanks, recognizes the genius of NASA. In fact, he masturbated all over that genius in both Apollo 13 and a 74 hour-long maxi-series called From the Earth to the Moon. It chronicled the Apollo program -- a NASA mission that you might recall resulted in way more than trillions of dollars spent, a few deaths, a starched flag in the moon, and a memorable quote. It remains one of the great and enduring metaphors of our nation's struggles and triumphs.

The missions are juxtaposed with the idealistic and volatile 1960's -- an inspired choice on NASA's part. Landing on the moon initially seemed to us, the audience, a rarefied and impossible goal. It was a fitting symbol for other goals of the age such as peace and racial equality. As we struggled, so did Apollo. But the men and the program ultimately triumphed -- Armstrong walked on the moon.

The triumph, of course, yielded nothing. We've never returned to the moon and don't plan to. Thus, NASA showed us that triumph is fleeting, much like the hippies' idealism and MLK's dreams of racial harmony.

Though NASA's most popular work, and probably its most accessible, the artistry doesn't end with Apollo. Only recently, NASA provided the world with a fine symbol of America as a crumbling superpower, unwilling to admit its own shortcomings and unable to perform as it once did. When the aging Columbia disintegrated in a streak across the sky, we looked to the Russians -- practitioners of a catch as catch can, Mad Max style of space travel -- to supply and evacuate the space station we once thought too pedestrian for our involvement.

And now, punctuating the Columbia piece with a brilliant bit of satire speaking to the ascendence of the buffoon in today's America, NASA has promoted the man in charge of the ill-fated shuttle's safety. Of his promotion, the man said, "Sometimes as human beings, we often learn more from our failures than from our successes." Sometimes we often, indeed. America -- failing our way to the finish line.

Bravo, NASA. Bravo.
Analogcabin @ 2:09 PM
Permalink |
-------------------------

I started this week the same way I've started an alarming number of others. While showering, I continued my years long internal debate on Counting Crows. Do I love "Long December" enough to outweigh my hatred for "Mr. Jones?" Will I ever be able to reconcile my aversion to the lameness of the band with my desire to purchase Recovering the Satellites? Would said purchase result in another Wallflowers Bringing Down the Horse debacle -- an awful album that resulted in little more than ridicule from friends?
Analogcabin @ 7:53 AM
Permalink |
-------------------------

Friday, November 14, 2003
I just saw The Matrix: Revolutions, and I can think of few pieces of shit grander or more smelly. Honestly, people, can you really tell me that in 2003 you can include a scene-ending close-up of your movie's villain cackling as something other than a gag?

So there are these two brothers that'll never make another good movie and one of them is going to get a sex change, and now I've got to hear about them for the next 40 years. Terrific.
Analogcabin @ 12:19 PM
Permalink |
-------------------------

Word on the street is that there's a new Paris Hilton tape, this one of the lesbian variety (or variete lesbian, for our French visitors.)

I think I deserve it, so send it to me.
Analogcabin @ 6:38 AM
Permalink |
-------------------------

Thursday, November 13, 2003
In spam related posts, check out this bit of hilarity at Oblivio. It's at least partially about the writing of a porno spam header, "i am not perfect but I do suck c0ck".

Via Chicha
Analogcabin @ 9:48 AM
Permalink |
-------------------------

Something happened this morning that reminded us that we at The Spoonbender don't talk enough about our tough stance on things. Important things that affect us all. Things like "issues." This morning's event made us realize that it's high time to make right the oversight.

But first, please notice that when we at The Spoonbender end paragraphs with a rhyme, we sound like Jesse Jackson.

The first of our tough stances is against grunting, gasping, or groaning while shitting in a public, multiple stall toilet. We at The Spoonbender just got back from taking a crap, and, really, people. If you make noises like you've been gutshot when you're on the bowl, you probably don't need to make a doodie that badly. If you're looking for the attention your drunken pig of a father never gave you, try a bathroom in a rest stop off the interstate. Lean back against the hole and you'll get gruntworthy male attention soon enough.

The second of our tough stances is that we at The Spoonbender don't really get why people write their blogs in the "we" point of view, whatever that's called. At least two that I read regularly do it: Gothamist and TMFTML. I suspect the latter thinks it's funny, and I can dig on that. The former, though, seems to use the technique to give the illusion of an editorial point of view. Before this "we" thing gets way out of hand, let's be honest with ourselves and admit that the only time a blogger's justified in writing from "the we" is when they're referring to themselves and their constant companions, crushing loneliness and pitiful hunger for attention.

And let me pause to point out that I realize tough stance two is a lot closer to a Sniglet than it is to a tough stance.

The third tough stance we at The Spoonbender take is against spam. I'd guess by now that pretty much everyone is familiar with the feeling of helplessness to stop the onslaught of unwanted email. I find that using SpamCop helps. From what I can tell, you forward a spam message to SpamCop and it somehow figures out where it originated and who hosts the website advertised. SpamCop then sends the involved parties nasty emails. In essence, you spam the people providing internet service to the spammers in the hopes that they'll get irritated and cut off the service. Or something. I don't know if it works, but I like doing it.

Anywho, this morning I got a spam that caught my eye. It's either the work of an amazing, surrealist artist that chooses spam as his canvas or it's some kind of high concept psychosexual taunt designed to drive me to the linked website. Either way, I'm intrigued.

I submit the spam for your perusal. I'd appreciate any thoughts or interpretations you might have, and that's what the "comments" thing is for.

I've heard _all_ about you...

Home of big dicks!

>> But each day brings its petty dust our soon-choked souls to fill, and we forget because we must, and not because we will.

50.000 of massive penises mpegs!

>> By common consent gray hairs are a crown of glory the only object of respect that can never excite envy.

10.000 of hardcore gigant cocks pics.

>> There are certain moments when we might wish the future were built by men of the past.

Shocking live penitration shows.

>> The price for independence is often isolation and solitude.

Chicks who fuck huge penises.

>> No amount of artificial reinforcement can offset the natural inequalities of human individuals.

19" Inches in tiny pussys!

Your virtual paradise:

http://miracle.hostgym.com:8088/

El kio ke te guadre

Unsubscribe: YcTl80vMcz@hsotgym.com

Even if happiness forgets you a little bit, never completely forget about it. Do not give in too much to feelings. A overly sensitive heart is an unhappy possession on this shaky earth. When it comes to getting things done, we need fewer architects and more bricklayers.
Analogcabin @ 7:09 AM
Permalink |
-------------------------

Wednesday, November 12, 2003
I don't know about you, but the last thing I want to see when I'm poised to dig my teeth into a flame-broiled monument to bacon and cheesy delishium is some woman's milk-weeping and chapped nipples, but according to this story, it looks like that's a chance Burger King diners in Utah are going to have to take.

Pull up a chair, kiddies, 'cause I'm fixin' to riff.

We all know that there are pros and cons to living in the civilized world. On the upside, there's a low infant mortality rate, TiVO, and delicious, thirst-quenching beer. On the downside, public defecation is frowned upon. Ours is a society of delicate balances. We hold personal freedoms dear and we cherish public safety. Alas, sometimes these loves are mutually exclusive, like a man's love of cats and a man's love of having sex with cats.

Take it from me and Kris Kristofferson, "Freedom's just another word for nothing left to lose," and let me take this opportunity to admit that I've never really understood those lyrics.

Until now.

Clearly, this Utah titslinger has nothing left to lose -- no pride, no dignity, and no appetite. I can picture her now, sated and reclining in molded orange plastic bench, Whopper detritus strewn across the table, enjoying a clove cigarette as she unfurls her milk-laden knocker.

Shh. I'm picturing it.

At some point in my life I was scarred by a story about a woman I know. She had recently given birth, and was having some kind of trouble with whatever kind of special bra breastfeeding women wear. She was in the bathroom, thank the Lord, when her overfilled boob began "spraying milk everywhere." I'll never forget that phrase. "Spraying milk everywhere."

Imagine if this had happened in the Burger King's dining room. Milk spraying from the breast like a Willie Waterbug toy on a summer day. Splashing into milkshakes and coffee, dousing fries and sandwiches. Shooting into patrons' eyes other unguarded orifices.

That's bodily fluid, friends. It's not only a disgusting scenario, it's a dangerous one. Perhaps it's unlikely, but are you willing to take your chances with a loaded jug?

I, for one, am not.
Analogcabin @ 7:52 AM
Permalink |
-------------------------

You may not notice without my calling it to your attention that I've removed Neal Pollack from the links section. That's because he's announced his retirement from blogging, and now there's no chance he'll ever ask me to guest for him.

Thanks, Neal. Asshole.
Analogcabin @ 7:12 AM
Permalink |
-------------------------

Tuesday, November 11, 2003
I only post this because I want to do my part in the unfair punishment of someone roundly envied and despised for nothing more than being born lucky.

My favorite thing about it is the image of a stoned and sweaty guy rutting away with huge and unwieldy night vision goggles strapped to his over-pomaded head.

Via Lindsayism.
Analogcabin @ 7:32 AM
Permalink |
-------------------------

Monday, November 10, 2003
I don't want to wax too political here because, frankly, there are loads of better equipped people doing it already. That's a stunning breach in my fortress of hubris, I know, but I'm all about modesty this week.

Modesty, and rocking your motherfucking world.

I find Dennis Kucinich charming in a Warren Cheswick kind of way. In debates and interviews, he seems earnest, remarkably dorky, and constantly trying to find ways to divert attention from the cool guy candidates like John Kerry on to himself. I think it's easier for me to find him charming because I know there's no chance that he'll win.

But poor Dennis is incredibly ugly, isn't he? I mean, there's that limp and vaguely greasy hair. There's his almost blue lips that curl creepily over off-color teeth. There's the way his eyes bug out sometimes, like the well-meaning shellfish character from some Disney cartoon. And there's his papery skin. I don't think there's any doubt that he's an ugly, creepy-looking man.

Not surprisingly, he's also single, and CNN ran an article on it. If there's one thing creepier than the picture they choose to run with the article, it's the caption they coupled with it.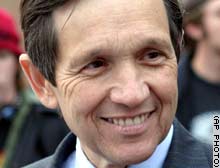 Kucinich says he fantasizes about his first lady.
Analogcabin @ 2:32 PM
Permalink |
-------------------------

Friday, November 07, 2003
Despite what she claims there is no "right time" for a new Sarah McLaughlin record. Unfortunately, no one asked me, and apparently there are enough misunderstood, 23-year-old, white and well-to-do poetesses around for Arista's profit projections to make sense, so there you have it. Rev up your Lillith Fair, grab your journal, and get ready for the predictably titled Afterglow.

I can live with the new record. It's the below quote I find really difficult to swallow.

Now I find anything that I write after [giving birth] has really been kind of sappy and gooey and feel-good. It's new territory for me and I don't know quite how to deal with it yet.

Sappy and gooey is new territory for Sarah "I Will Remember You" McLaughlin? Puh. Leese.
Analogcabin @ 12:17 PM
Permalink |
-------------------------

Thursday, November 06, 2003
CNN reports that, according to the testimony of former Rosie marketing chief and cancer survivor Cindy Spengler, O'Donnell chastised her for lying by saying the following:

Rosie:
You know what happens to people who lie? They get sick and they get cancer. If they keep lying, they get it again.

This is exactly the kind of brazenly illogical threat you'd hear from a gin-sneaking 12-year-old babysitter who wants nothing more than for her annoying charge to leave her alone with her already blue-balled 17-year-old "boyfriend."

Spengler:
Your mother died of breast cancer. Was she lying?

I like this Spengler. She cuts to the quick.

Rosie:
Yes.

And there you have it. If only this case were a TV drama series, it would be here that the gallery would titter and ah, the defense lawyer's head would collapse into his hands, and the judge would slam his gavel and remand O'Donnell to the care of the state, leaving the empathic prosecutor and the audience with one unanswered question -- what did her mother lie about?

"Rosie, someday you'll grow up to be the prettiest bride in the whole world, and I won't be dead from the cancer!"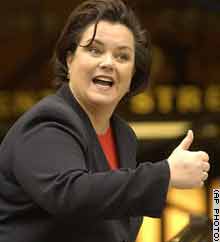 O'Donnell: I'm gonna stick this up in them guts!
Analogcabin @ 9:06 AM
Permalink |
-------------------------

Wednesday, November 05, 2003
Once again, reading between CNN's lines reveals that scientists are stupid.

Some paleontologist named Leslea Hlusko postulates that early humans used toothpicks. We are told that this is significant because it shows that these monkey-men were concerned with oral hygiene.

Suppose, for a moment, that you're a person of bestial intelligence. You hunt or gather for days in search of any food, let alone something large enough to get stuck in your teeth. When you pick up a blade of wild grass to insert into some cranny in your molar, it's going to be to dislodge the precious and succulent morsel for eating, not because you're concerned about a bright smile.

If this kind of half-assed scientistery keeps up, they'll probably undercover my remains in 10,000 years and deduce that I masturbated to keep the dust off of my penis.
Analogcabin @ 2:24 PM
Permalink |
-------------------------

Two things disturb me about the below picture, but I'm not sure which disturbs me more.

The first thing is that anyone could have thought Gary Ridgway was something other than a serial killer. Just look at those eyes. The second upsetting thing is that he looks just like my former Cub Scout master, Mr. Thielen, and that it hadn't occurred to me until today that Thielen looked like a complete fucking psycho.

I need to make myself a note never to have repressed memory therapy.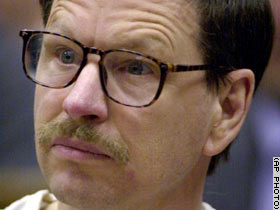 Analogcabin @ 12:54 PM
Permalink |
-------------------------

Tuesday, November 04, 2003
This is wonderful and horrible, and I can't say I'm surprised.

Link via Deviated Septum
Analogcabin @ 1:55 PM
Permalink |
-------------------------

It's time for a little honesty, America, because there's far too little of it in this age of low-carb diets and genital shaving. Anyone with a home delivery subscription to The New York Times knows that I'm always eager take up a cause. There's my work on the environment, education, charity, fairness, and good, not to mention not-hunger and not-sick, but I'm especially fond of fighting for the freedom of incarcerated rappers. Of these fights, my battle for Slick Rick's freedom is the closest to my heart.

Since 1984 I've been waging a figurative and literal war against the powers that be -- sending them strongly worded letters soaked in stink bomb juice, shooting at them, and flashing my penis at their families. Today, it appears that I've won that war. Slick Rick will taste the tasty air of freedom when he breathes it.

Except now I find out he shot a couple of guys. That bit of info makes this moment more than a little bit bittersweet, let me tell you. I mean, fuck, you know?
Analogcabin @ 10:57 AM
Permalink |
-------------------------

Monday, November 03, 2003
This article is just further proof that things have really changed since I was in high school. In my day, condoms stuck all over your shirt wasn't a costume, it was a cruel prank, and I didn't appreciate it one bit.

"What else has changed since you were in high school?" you clamor with almost sexual anticipation. Well cease your baby bird wriggling and squeaking in aviary supplication, for I'm about to regurgitate a tale of a time called the mid-nineties.

George Bush was the president. No, not that George Bush. I'm talking about George Herbert Walker Bush -- the current president's grandfather and Olympic prizefighter. Morton Downey, Jr. ruled the airwaves, and homosexuality was nothing more than a secret dream lurking deep within Harvey "The Inventor of Gayness" Fierstein's psyche. Blogging wasn't the rarefied fourth and a half estate is it today. It involved a bump of cocaine, a tub of Vaporub, a straw, and an underage girl. In fact, the internet itself was known only to small group of Cal Tech role-players cloistered deep within their own fractured psyches. The rest of us were forced to use modems to connect with something called a BBS -- an acronym that stood for nothing at all, because the concept of acronyms had not yet been fully fleshed out. Dilbert was king, Cathy was his beautiful queen, and I loved them both well, for Anime had not yet sprung from the minds of emotionally stunted Japanese men. Lisa Lisa was the closest thing we knew to an Hispanic sex symbol, and thank the Racist Lord for small favors. Thank Him, too, the cornucopia of puns made based on "Cult Jam." I'd say that Eric Nies cabbage patched through the collective subconscious of young girls everywhere, but the concept of the collective subconscious didn't exist because David Blaine had not yet been born.

It might seem to you as though we had it tough, but it was a simpler time, and, oh, how we danced!
Analogcabin @ 1:39 PM
Permalink |
-------------------------

What do you wash down a teenage surfer girl's arm with? Blue Crush, of course!

Yeah! The comedy... it burns!
Analogcabin @ 10:45 AM
Permalink |
-------------------------

Before I attempt to embark upon another week of entertaining your asses off, I want to apologize for the relatively poor quality of last week's posts. I understand that to you, the rabid and unquestioning fan, last week's Spoonbender was genius. But as a man of brilliance, I know that I have a responsibility in addition to masturbation, and I know that I didn't meet that responsibility last week.

The masturbation part I did. Anyway, I'm sorry. This week will be different, I swear. It will be a success the likes of which not seen since the bombing of Cambodia.
Analogcabin @ 8:01 AM
Permalink |
-------------------------