Monday, February 27, 2006
For weeks now, families have been huddled around their computers clicking the refresh button. No, they're not hoping against hope for a working link to the Tammy NYP sex video, lovers of underAsian smut that they are. At least not all of them. They're eager to read The Spoonbender Guide to American Idol, and why shouldn't they be? It's become one of our country's greatest traditions, like Thanksgiving or ignoring Mexicans. Well, patriots, wait no longer.

Before I begin, a note: I started working on this post last Wednesday evening, and as such planned on discussing Bobby Bennett, Becky O'Donohue, Stevie Scott, and Patrick Hall. Unfortunately for you, circumstances out of my control prevented me from finishing. So, as I am nothing if not the enemy or irrelevence, I've decided to omit those four has-beens from further discussion below. Let it suffice to say that I'm sure each of them will enjoy delightful careers -- Bobby as manager of an Outback Steakhouse, Stevie as an elementary school music teacher (at least until her second nervous breakdown,) and Patrick bringing 'em to tears in the Piano Bar at Las Vegas' New York, New York Hotel and Casino. And then of course there's Becky who, following her spread with her sister in Playboy, will become a mainstay of various E! Network programming right up until her marriage to Survivor hunk Colby Donaldson.

I've yet to arrive on a format for my annual AI post with which I'm completely happy. In the past I've broken contestants into demographic categories, which effectively relates on what basis I think Americans will vote. That can get complicated, though, as many contestants fall into multiple categories (for example, this year Paris Bennett fits nicely into both the Chocolateer and Disney demos.) I've also tried discussing each contestant individually. While I think that's clearest, it's pretty fucking time-consuming. What shall I do this year? I'm deciding as I write this, and I think my conclusion will be to do it individually, and then to list demographic categories next to each contestant's name.

Also, over the years I've proven my theories on AI to be at least sound if not revolutionary, so please keep the precepts in mind while reading. The first is that Americans vote for type before talent. I sometimes call those types demographics, but that's not really accurate. They're more like affinity groups. The idea here, and I'm paraphrasing myself, is that if you like chocolate ice cream, you're not going vote for vanilla simply because it's fancy gelato. These groups are, in order or voting strength: the Disneys -- largely adult and Christian viewers in search of a wholesome and, if at all plausible, white winner; the Tweeniddlers -- young girls in search of protomasturbatory fodder; the Chocolateers -- actual blacks and those obsessed with black culture, such as wiggers; the Midlers -- a largely urban group consisting of women with blogs and loud voices and gay men with fancy shoes and loud voices; and the Spoonbenders -- the late teenaged to adult men who watch the show like Aqualung. The second precept is that America, and moreover, the show's producers, love a story. Having that gets a contestant coverage early on, and that can go a long way.

And so, without further preamble, it's on.

Ayla Brown: Disneys
The all American girl thing works, especially if you don't look like you've got a big, fat cock tucked between your legs. Unfortunately for Ayla, she does, and her mannishness coupled with the mentions of a father in Congress will hurt her. People are watching her and saying, "She's had the world handed to her on a platter and she's got a fucking cock under there somewhere!" That's not what you're hoping for in this competition.

Ace Young: Tweeniddlers, Midlers, Disneys
If Seacrest, Paula, and everybody else is to be believed, this Ace Young guy is really handsome. And the ladies might even have a chance with him if they, like Ayla Brown, have a big cock tucked between their legs. If not, I have a feeling Ace isn't all that interested. Still and all, there's no denying I'm going to have to put up with this fucker's intolerable mugging for a while.

Brenna Gethers: Chocolateers, Midlers, Spoonbenders
I get the distinct impression that, given the opportunity, Ms. Gethers would drop down right there on stage and suck off Seacrest if it would guarantee her a win. Unfortunately, that's not going to help her with the voting blocks that count. Being completely without talent kind of hurts her, too. But as an aside, how much would you give to watch a show where she moves into Bucky's trailer in North Carolina for about a year? I'd be willing to bet $100 that it takes exactly seven beers until that mouth wins her an introduction with Bucky's fist.

Heather Cox: Spoonbenders
Do we really have to talk about her? Can't we just say goodbye and leave it at that?

Bucky Covington: Spoonbenders
So how many Skynyrd hits are left for him to sing? 2? And then I suppose there's "Sweet Home Alabama" and "Sweet Melissa." Fortunately for Bucky, I don't think he's going to have to think much further ahead than that. I'm just hoping he's around long enough to get booted by the producers for getting loaded up and handsy with Kellie Pickler.

Chris Daughtry: Spoonbenders, Disneys, Tweeniddlers
Chris has two things going for him. The first is that he can sing. The second is the whole story -- he marries some broad with a baby and puts his dream of fronting Creed on hold to work in an oil change place and support them. That's going to be huge in the finals, when he starts talking about missing them, maybe crying a bit, and the producers show them in the audience. He's also got two things working against him. The first is that he has to pull a Bice and select the perfect songs so that he can navigate through disco and Manilow weeks without seeming like a complete douchebag. The second is that he's not an obvious choice for any of the big voting blocks. If he can make it far enough, they'll throw him some votes, but it'll be tough going early on.

Katharine McPhee: Disneys, Midlers, Spoonbenders
In a lot of ways, I think this year is Katharine's to lose. But I think she'll manage. She's obviously talented, and, like Brenna, more than happy to handle every penis-rung on the ladder to the stars. But that whole stage mother thing is going to kill her. If she's smart, she'd ixnay on the othermay from the rest of the ontestcay. America wants to imagine her rollerskating burgers to her daddy in jail, like Pickler, not being ushered by her maniacal mother from her McMansion in Agora Hills to auditions in West Hollywood.

Kellie Pickler: Disneys, Spoonbenders, Midlers
Kellie Pickler is the Rocky to McPhee's Ivan Drago. Can a lot of heart and a little talent outmatch a lot of talent and a little heart? Not unless McPhee has a melt down and runs off to live in South San Francisco with Sway Penala, which I don't think is out of the question. Just remember this: Every vote against Kellie is a vote for putting in the clutches of the porn producers who are at this point lined-up outside of her hotel room with bagsful of the daddy-surrogacy and meth that is their stock and trade.

Daniel Radford: Disneys, Tweeniddlers
If you have it on tape or TiVO, watch Radford's performance from last week back again. Stare deep into his eyes. Now tell me: Are you sure he's not retarded?

Elliott Yamin: Chocolateers
Elliott Yamin might be, as Simon said, one of the most talented singers to have been on the show. He's no Ace in the looks department, though, is he? The only place Elliott would have less of a chance of winning is in Iran where they hate Jews even more than in America. Anyone know when the auditions for Israeli Idol are?

Kinnik Sky: Chocolateers, Disneys, Midlers
I don't think Kinnik has much of a future in the contest, but doesn't her name sound like a mountain bike?

Lisa Tucker: Disneys, Chocolateers, Midlers, Spoonbenders
On paper, Lisa should be one of the favorites because her appeal is so broad. The judges certainly seemed impressed with her, as well. Now maybe Paula's highly-trained ear heard something I didn't, but I thought she was horrible last week. Specifically, she sounded like someone ran over a kitten in a car blasting Whitney Houston.

Gedeon McKinney: Chocolateers, Midlers, Disneys
Personally, I've never much cared for Steve Harvey.

Sway Penala: Chocolateers
In his mind, Sway's already won, which is good, because he's got no chance of actually winning. I can see a long career of independantly released Sway records, however, and a long career of coworkers at the insurance agency irritated that he insists on being called Sway.

Mandisa: Chocolateers, Midlers, Disneys
Mandisa's fat. Ha ha ha. Really big and fat. Hilarious. I'm more interested in the being 29 part of the equation. When you're 29 you should be old enough to realize that, if you weigh 400 pounds, your voice would have to be strong enough to make angels weep and grown men lose control of their bowels in order for auditioning for American Idol to be worth the grief it will cause you.

Melissa McGhee
Who?

Kevin Covais: Disneys, Midlers, Tweeniddlers
Everytime I look at this kid, I see anguish. That's because I really, truly suspect that, coming into the audition, he felt like he looked like pretty much any other 16-year-old guy -- a little narrow through the shoulders maybe, but a decent amount of pubes happening. Then he shows up, sings whatever song got him the lead in the school musical, and suddenly he's being treated like a toddler. He'll take it. After all, what choice does he have? But America will never know the intensity with which he longs to lick Kinnik's beautiful black ass.

Paris Bennett: Chocolateers, Disneys, Midlers
The question with Paris isn't whether she can make a name for herself singing. It's whether she needs American Idol to do it. And there's also the question of whether we, as a nation, are comfortable voting for a person who looks so much like an Ewok.

Taylor Hicks: Disneys, Spoonbenders, Chocolateers
The only thing that would make Taylor Hicks more irresistible as an underdog would be if he were from New Orleans. There's no question he's going to be around for a while. The only thing I'm not sure about is what week he'll sing "Sweet Freedom."

Will Makar: Tweeniddlers, Disneys
I really want to make a pun using his name -- one that perfectly captures my utter lack of enthusiasm for him.

The Final 12
Taylor Hicks, Paris Bennett, Mandisa, Lisa Tucker, Katharine McPhee, Kellie Pickler, Chris Daughtry, Ace Young, Elliott Yamin, Kevin Covais, Daniel Radford, Brenna Gethers.

The Final 3
Katharine McPhee, Taylor Hicks, and Paris Bennett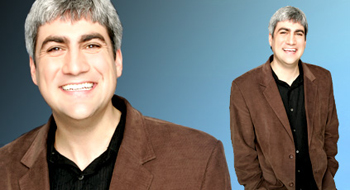 Your American Idol, Taylor Hicks
Analogcabin @ 10:56 AM
Permalink |
-------------------------

Wednesday, February 22, 2006
A note to my many longtime fans: Tomorrow I hope to make my annual American Idol picks. If that doesn't keep you up tonight, I don't know what will.
Analogcabin @ 4:15 PM
Permalink |
-------------------------

Like life, ABC's The Bachelor consists of interminable lows suffered for fleeting and forgettable highs. And while I think this year's Paris edition is better than recent seasons, the ratio of suffering to joy is still far from balanced. That said, last night I watched the show's The Women Tell All episode, and it was dizzying. I enjoyed it so much, in fact, that I've come to believe I endured the rest of the season solely to prepare me for it, much like the crucifixion of Jesus prepared him to be the King of the Clouds.

It's difficult to argue with the recipe. Take a dozen or so mostly attractive women from around the country, each of whom is probably used to being the cutest sister in the sorority. Now put them into a house with an attractive, successful man. Have that man to treat each of them in a way he never actually would were he not compelled by a producer. Have him shower them with luxuries like carriage rides, keep them guzzling champagne, and make it clear to them without actually saying it that the timing of their blowjobs is critical. Too soon and they'll be discarded like so many before, too late and they'll risk losing cockshare to more willing competitors. Then, after they've been judged not pretty enough very publicly, put them in a room and ask them to assign blame.

The rest takes care of itself.

One of the topics of conversation on the episode was a bachelorette named Allie G. She was remarkable in two ways. The first is that, in her first meeting with the Bachelor, she said that he shouldn't pick her if he wasn't interested in having children soon. The second is that, after he followed her advice and didn't choose her, she angrily confronted him, demanding to know why she hadn't been chosen, calling him a fraud or some such thing, and going generally haywire.

To a some men, the first thing she did could be seen as admirable. They might say that it's rare and wonderful to find a woman who tells you exactly what she wants. But I am not some men. Because I know women to be inconstant and unworthy of trust, I knew her gambit could not be believed. Unfortunately, the Bachelor was not as wise as me. Taking her comments at face value and responding with honesty only won him abuse. The smarter move would have been to play along by offering to put those children in her belly for her, and then, when she's in the unsuspecting haze of post-inseminatory bliss, to slap her around for a while. That, ladies and gentlemen, is romance.

But I digress and should not, for I have an important point to make. In the past, the series' producers have chosen a losing competitor to serve as the Bachelor or Bachelorette on a subsequent season. It occurred to me while watching that Allie G. would be an excellent choice to fill this role. There are very few things I can think of that would be more entertaining than watching the competitive spirit and optimism of handsome young wannabe actors dissolve into a kind of concentration camp desperation.




Allie G., above, could be a star.
Analogcabin @ 11:08 AM
Permalink |
-------------------------

Tuesday, February 21, 2006
It's hard enough to imagine a 56-year-old man having a roommate, let alone that he would beat that roommate to death with a claw hammer because there was no toilet paper in their apartment. It's even harder to imagine when that man, Franklin Paul Crow, has an angel face like this one: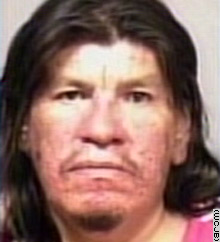 Analogcabin @ 1:22 PM
Permalink |
-------------------------

Wednesday, February 15, 2006
Sure, I like the idea of Patton Oswalt. But I liked the idea of David Cross, too, and look how that turned out.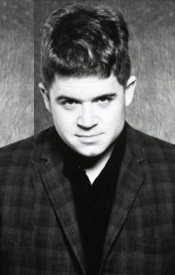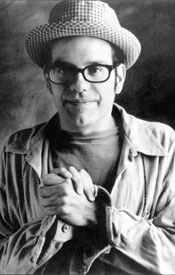 Analogcabin @ 10:58 PM
Permalink |
-------------------------

Tuesday, February 14, 2006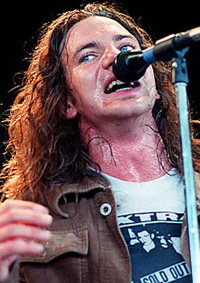 I'm goin' hungry.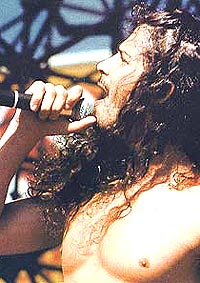 Goin' hungry.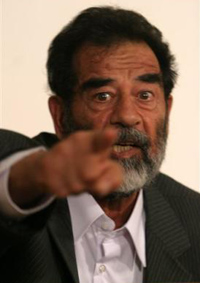 Goin' hungry, yeah.
Analogcabin @ 5:50 AM
Permalink |
-------------------------

Sunday, February 12, 2006
I swear that if you asked Dick Cheney to kiss a baby, he'd bite its lip. That none of us could be surprised by any evil he might commit is the only reason I can conceive that news that the Vice President of the United States shot his buddy in the face with a shotgun isn't a bigger story.

Though I don't think any of us could think less of Dick, it's nice to see the Bush semiotics squad has leapt to his defense anyway. The article, for example, describes Cheney's victim as "being hit" or "peppered" with "several pellets." This morning, I heard it said that the man was "sprayed." Now I'm no munitions expert, but my understanding of how shotguns work is that a small explosion within the gun propels whatever projectiles are contained within the shell, usually lots of tiny metal balls called shot, at the target.

When somebody gets in the way of a discharging weapon at Jayson Williams' house, they're "struck" with a "shotgun blast." When it happens during the Vice President's hunting excursion, they're "peppered" with "several pellets."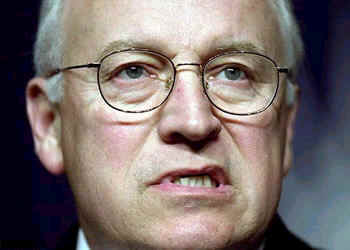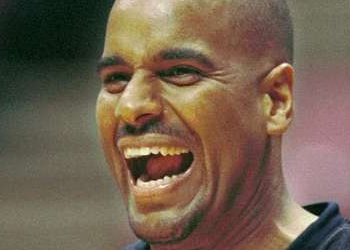 Guess who's the criminal?
Analogcabin @ 9:40 PM
Permalink |
-------------------------

Tuesday, February 07, 2006
This story, about the limits of the power of marriage to make a pregnant girl an honest woman, was interesting to me, and not for the reasons you might think. What intrigues me about Matthew Koso, the defendant, is his haircut. I'm not sure he couldn't have chosen a style that accentuates more of what's wrong about the shape of his head.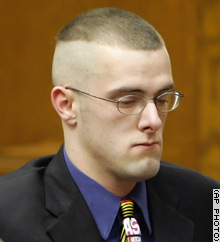 Analogcabin @ 7:14 PM
Permalink |
-------------------------

Friday, February 03, 2006
I've been a been a bit busy to post the last few days and I'm sorry about it. Tune in next week, however, because I'll be posting from China, and you know what that means: laughing at a foreign culture despite that they hold the mortgage on our very souls!

In the meantime, who needs anything else when you've got The Iron Maiden Commentary Website? Visit and lose yourself for the day. Of particular interest is the "Why Maiden Rules" section. The bottom line is that if you didn't listen to Maiden at some point in your life, you're a fucking pussy.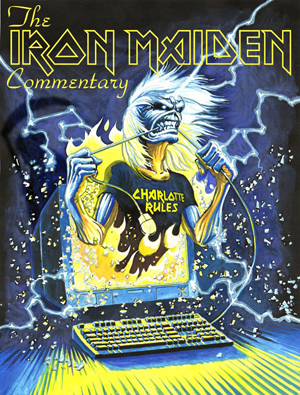 Analogcabin @ 11:56 AM
Permalink |
-------------------------