Wednesday, November 30, 2005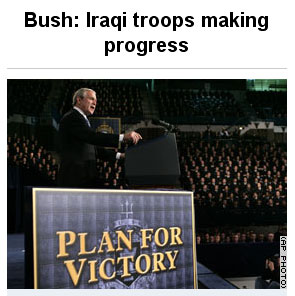 Battleplan by Successories
Analogcabin @ 9:33 AM
Permalink |
-------------------------

Tuesday, November 29, 2005
If you're like me and you employed a number of gentlemen of indeterminate immigration status over the weekend, you've probably been following intently President Bush's "Iraqin' the Border" tour across the Southwest. In case you haven't, it's his latest press tour, the goal of which is to distract from the deterioration of his party as a result of the broadening realization that his administration is full of moustache-twisting "nefarious bastard[s]" by pushing a refried immigration plan.

But it would be easy to turn this post into an indictment of Bush's delusional assertions "guest workers" would volunteer to go back to Tijuana after their six years are up or that it would be cost-effective to "harden" our borders with fences and surveillance cameras. The truth is that no one in government dares to discuss the real problems with immigration. Lucky for you, I'm not in government. Because that means that I can discuss the problems with immigration. And that I can't impose a "show me your boobs" tax.

Problemo Numero Uno de Immigración: The Relativity of Shitty
I know it's a nice, neat zero sum equation to say that illegal workers from Mexico are taking jobs from Americans, but it's simply not the case. Go to the nearest McDonald's and ask if they're hiring. Stop by the closest car wash and ask if they need towel guys. Whether it's cleaning hotel rooms, picking grapes, or collecting and recycling an '83 Chevy pickup full of scrap, there are plenty of jobs out there. The problem is that most Americans deem this work too shitty to count as a job.

Now I know what you're thinking: But the pay for those jobs is too shitty to live on! I agree, and so does pretty much everyone else here. So Americans don't take them. What do illegal workers do? Take two, three, or four of them. They live with 50 relatives, and they carpool like a motherfucker. Sure, that's a shitty way to live, if you're accustomed to the way Americans normally live.

The bottom line is that "shitty" in America doesn't compare to "shitty" in Mexico. Shitty in America is flipping burgers for eight hours so you can take home fifty bucks and not have health care. Shitty in Mexico is not working at all, getting your dirt house robbed by some cartel's bandidos, and then getting ass-raped by the polícia while filling out the report.

Problemo Numero Dos de Immigración: Brown People
White America doesn't like the idea of being a minority, but with these dusky Catolicos breeding like rabbits, that's what it's going to be. So let's stop the bleeding, hope for a Latino sickle cell, and rethink that abortion stuff.

Problemo Numero Tres de Immigración: Mexico
Would you risk your life paying every cent you have to a smuggler so that you could move to France, work in a cheese store, and be treated like an ignorant second class citizen? Of course you wouldn't, because you're sitting there in a comfy office chair eating a Hot Pocket. But if that Hot Pocket was a mule turd, you had diarrhea streaming out of your ass, and the only doctor in town was booked up for years performing cut-rate eye lifts on Tuscan housewives, would you? Maybe you'd consider it.

If you take a look at the miserable den of corruption and poverty that is Mexico, it's a testament to our racism that more of them aren't over here. So how do you solve the problem? I'd say invade, but I don't have the faith in that I used to. Maybe you could start by dismantling the organized crime rings that run the country. Not by dumping more money into the bottomless pit that is the DEA, but by handing the entire market over to organizations with experience turning illicit activities into well-regulated and virtually limitless tax revenue streams -- Phillip Morris, Seagrams, and GlaxoSmithKline.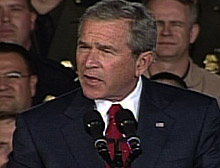 President Bush, above, straining to comprehend. Either that or pooping.
Analogcabin @ 10:52 AM
Permalink |
-------------------------

Monday, November 28, 2005
How was my holiday? Fine, thanks. Busy, truth be told. But I had plenty for which to give thanks. For instance, me. Overall I'd give it a B.

What's an F? I'd say this is for pretty much everyone involved. There's mother Jeaneane and grandmother June Henderson, who were beaten to death by son Richard Edgar with a pipe for some culinary affront, no doubt. Then there's father Richard Sr. and younger brother Jake, who met the same fate with the same pipe, perhaps for taking Jeaneane and June's side once too often. Of course there's Richard Edgar, who was robbed of the day of restful reflection we all hope our Thanksgiving will be, first by his meddling family, and then by Manatee County, Florida sheriff's deputies. And let us not forget the deputies themselves, who were forced to work on a holiday, and in what must have been a rather messy environment.

But grading is a subjective process. And, like any good teacher, I try to be constructive with even the most disappointing performances. And so, on the upside, the Henderson's did manage to spend the holiday together, which is especially difficult during these times of high gas prices and divided families. And isn't family what Thanksgiving's all about?


Analogcabin @ 10:13 AM
Permalink |
-------------------------

Monday, November 21, 2005
Though I realize it puts me at risk of sounding like I revel in the misfortunes of those more talented or successful than me, I simply can't resist posting the following item.

Gawker chieftain Nick Denton was spotted at San Francisco watering hole The House of Shields this past Friday evening. And according to my sources, his shirt wasn't the only thing that got watered! He also had something to drink!

An anonymous tipster revealed to me that Denton and a handful of trusted deputies, including the '80s TV PI-nomered Lockhart Steele, were holding court for a bevy of the Bay Area blogscene's most-enthusiastic bung-tonguers, when someone treated Denton to a drink... right on his hairy anglochest! No one knows who the drinksassin was, though there is certainly no shortage of suspects among the thousands unlucky, unhip, or badly-dressed enough to have fallen into the crosshairs of any of his stable of underpaid hatchetmen. One can only hope that the ever-generous Denton kept enough of the surely remarkable Yahoo distribution windfall to cover his dry-cleaning. Because, for once, the drinks really are on Denton.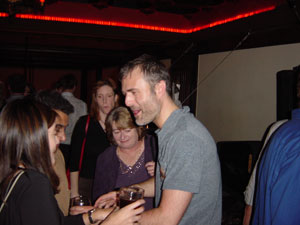 Denton, above right, explains to eager onlookers how Yahoo distribution of Gawker will legitimize blogging, and how that legitimacy will trickle down to the blogetariat.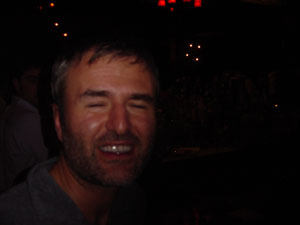 Nick Denton, looking every bit the mogul above, finds himself in the glaring flash of the paparazzi.
Analogcabin @ 7:59 AM
Permalink |
-------------------------

Thursday, November 17, 2005
I know I've been neglecting you all for a while, but let's be honest: I've been writing this fucking thing for three years or something. In that time I've rarely missed two days in a row. I don't say this because I'm proud. Believe me. I just point it out as a way of telling you to get off my fucking back. Stop the emails begging, pleading, and threatening suicide. I'm in the middle of moving, and gathering all of my pornography and fan mail into boxes is time-consuming, as you might imagine.

But rest assured: I have something big in the works. Stay tuned, for we all may soon have something that will make this a Thanks Giving indeed.
Analogcabin @ 4:10 PM
Permalink |
-------------------------

Wednesday, November 16, 2005
Analogcabin @ 2:49 PM
Permalink |
-------------------------

Monday, November 14, 2005
I'm really sick of all this talk about the "digital divide," and I'll bet I'm not alone.

Think about it for a minute: I can access pornographic images of pregnant white women any time I choose and some Ugandan guy named Kunta can't. Is that what's keeping him and me apart? Sure, I suppose it is in some really minor way. I mean, were we to get together after work for a beer, we wouldn't be able to bond over how voraciously that woman did decidedly unmotherly things with a strange, mustachioed gentleman and his hispanic friend. Of course, we couldn't get together after work anyway because Kunta doesn't work. And we couldn't get together for beer because Kunta can't afford beer and I'm not into buying every round. Plus, he lives like a million miles away and doesn't have a car, and I think his neighborhood is shady. And even if we overcame all those divides we couldn't talk about anything because I don't speak boogity boogity. Plus, he's black and worships rocks.

So when I read a news story about costly programs that will bring high speed internet access to rural Africa, I can't help but wonder if it's money well-spent.
Analogcabin @ 4:42 PM
Permalink |
-------------------------

Friday, November 11, 2005
Today the FDA issued a warning to users of the popular birth control patch Ortho Evra. "If you keep asking for it, you're going to get it," said spokeman Bill Pierce.

"If you're so horny that you can't take the wiener out of your mouth long enough to take a pill, well then we're just going to have to give you what you're begging for," continued Pierce. "There's only one treatment for what you've got, so we're prescribing it: the hot beef injection."

"And that beef, we can assure you, is FDA approved."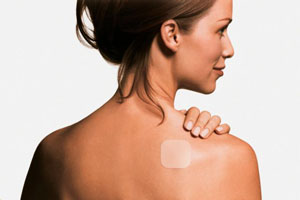 Birth control patches like Ortho Evra, above, are favored by horny little freaks, nude and totally begging for it from behind above, that can't remember to take a pill because they're so obsessed with penises.
Analogcabin @ 11:55 AM
Permalink |
-------------------------

Thursday, November 10, 2005
Sorry, but I don't have time for this today. Here's the article. Do it yourself.
Analogcabin @ 8:51 AM
Permalink |
-------------------------

Monday, November 07, 2005
As big a fan as I am of tales of teacher/student shenanigans, I have to admit I've become a little desensitized to them. Since the heady days of Debbie Lafave, so many equally sordid stories have surfaced that it's impossible for even me to stay on top of them all. These days it takes something extra to catch my eye. That something is lebianism.

These are documents unearthed by The Smoking Gun detailing the love affair between math teacher and girls junior varsity basketball coach Jaymee Lane Wallace and her then 16-year-old student cum power forward. I've excerpted the lines from the report of particular interest to me.




The police report, above, says that the student "performed oral sex on the coach" in a parked car and that "she could see Busch Gardens from there." And how.
Analogcabin @ 10:16 AM
Permalink |
-------------------------

Friday, November 04, 2005
In times as filled with fuckfaces as these, it's really an accomplishment to be declared the Biggest Fuckface of the Day. It means that your behavior not only has to be more reprehensible than that of Johnny Come Latelys like Las Vegas mayor Oscar Goodwin, but also perrenial jackoffs like Karl Rove and Osama bin Laden. In short, you've got to be a major league fuckface.

So congratulations, Mike Love! Your decision to sue emotionally fragile Beach Boys genius Brian Wilson over the promotion of the finally completed Smile album is the move of an incredible fuckface. Especially after already having sued Wilson for joint publishing rights to songs on which you admitted to writing only "a line or two" of lyrics and driving him to abandon Smile in the first place. That's enough to make you, Mike Love, the Biggest Fuckface of the Day!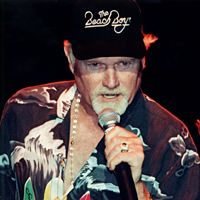 Mike Love, above, is the most pathetic and vile human in the news today. Good on ya, Mike, and see you at the county fair!
Analogcabin @ 10:28 AM
Permalink |
-------------------------

Thursday, November 03, 2005
If there's anything I hate more than the Bush administration, it's the American people.

That's right. I said it. I hate the American people. They're a stupid, uninformed, inarticulate, pathetic lot that deserves the leadership they have. The only thing they have going for them is a seemingly endless supply of attractive underaged starlets. If only that great resource could fuel more than my illicit desires.

What's that you say? "But I'm American! And I didn't vote for Bush! And I watch The Daily Show and read The Spoonbender every day!" To that I say this: Fuck you, you whiney whore. The cynical detachment and snide heckling defense is as worthless as your liberal arts degree. If I had a blackjack and could reach you through the internet, I'd teach you a lesson about getting beaten with a blackjack you wouldn't soon forget.

So as you might imagine, I don't have a lot of time for stupid "news" features like this one, in which CNN publishes advice for President Bush various readers have emailed them. But fortunately for you, I have plenty of time to take issue with this type of "news" feature.

My objection is bifold. First, were any of the editors at CNN thinking, they'd realize any advice emailed to them meant for the president should be immediately disregarded. How wise could the author be if they sent the email to CNN instead of Bush's own email: gbush2@whitehouse.america?

Second, I think it's dangerous to publish this stuff. It's not that I don't think that Bush could use the help, because he obviously can. But what if he were to actually read it, assuming, of course, that he can read. Bush is clearly not the best judge of character or anything else. Taking bad advice from short-sighted, self-centered buffoons is exactly what got him into any number of the pickles in which he finds himself today. Publicly calling for him to do more of the same is courting disaster. And I, for one, am not willing to put America's resources at greater risk.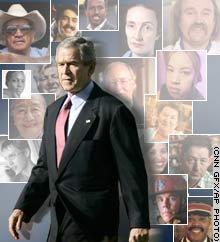 President Bush, above, is frequently led astray by the ignorant voices, looming two-dimensionally above and behind, whispering into his ear.
Analogcabin @ 9:12 AM
Permalink |
-------------------------

Wednesday, November 02, 2005
I was shocked to see the below headline this morning. Shocked and appalled.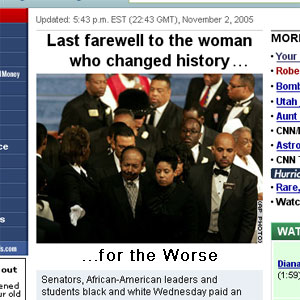 This appalling headline, above, is just plain shocking.
Analogcabin @ 3:16 PM
Permalink |
-------------------------

Tuesday, November 01, 2005
A quick scan of CNN this morning reveals more optimism from Iraq. Here's the headline: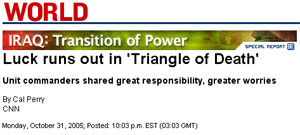 How bad are things if luck ran out in the Triangle of Death? I mean, "Triangle of Death" doesn't sound very lucky to me in the first place. "Triangle of Found Twenties" sounds lucky. So does "Triangle of Surprise Blowjobs." If the luck ran out in the Triangle of Death, what are they going to call it now? The "Triangle of Splinters Underneath Fingernails, Then Death?"
Analogcabin @ 8:28 AM
Permalink |
-------------------------