Wednesday, June 30, 2004
The Make-A-Wish Foundation helped make 9-year-old leukemia sufferer Ben Duskin's dream of a video game that cancer patients could play to take their minds off of chemotherapy come true. Unfortunately, the result is Ben's Game -- in which the main character, modeled after Ben, skates around and battles mutant cancer cells, his every misstep and defeat at the hands of the cancerous horde a painful reminder of the real life battle in which he's engaged.

Next up for Make-A-Wish: a video game for AIDS sufferers in which they attempt to navigate through a world of Haitian hookers, defective condoms, dirty needles, and contaminated blood supplies. It should be hours of fun for those AIDSies.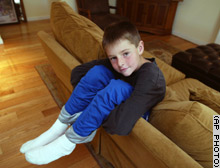 Ben Duskin, above, wishes he'd never opened his leukoplakia riddled mouth.
Analogcabin @ 9:45 AM
Permalink |
-------------------------

The Federal Government and the policy branch of the Church of Latter Day Saints, otherwise known as the state of Utah, filed a $14 million suit against the Boy Scouts of America today. They allege 20 Weblos left without supervision set fires outside of an authorized camping area that resulted in a forest fire that burned 14,000 acres.

At this point, I think the pertinent question has got to be what the Boy Scouts of America do that's good. When they leave the kids unattended, they burn down huge swaths of forest. When they attend to the kids, it's by diddling their weiners. And on top of it, they're vocal that gay people couldn't possibly handle the responsibility of doing that much burning and molesting, and therefore refuse to allow them to participate as either Scoutmasters or Scouts.
Analogcabin @ 8:56 AM
Permalink |
-------------------------

Tuesday, June 29, 2004
Obviously I'm not going to be the only one to say it, but holy fucking shit. Whether she's guilty of having sex with her 14-year-old student remains to be determined, but the jury has already returned a guilty verdict on the charges of being totally fucking hot.

Is it weird to be 29 and want to trade places with an eighth grader that isn't Frankie Muniz?



Debra Beasley Lafave, above, is accused of giving one of her students her A, and a nation of grown men wept.
Analogcabin @ 1:33 PM
Permalink |
-------------------------

The problem with John Kerry's proposed education plan -- the one he claims will create one million more college graduates than are currently forecast in five years -- is the premise. America needs fewer college graduates, not more.

I don't want to sound like I'm against education because I'm not. Except for black people.

Seriously, though, this isn't about education. This is about the job market. Ask anyone that graduated college after, say, 1985. There is simply too much competition for the kind of "professional" jobs a bachelor's degree used to all but guarantee. And that glut of college graduates in the job market has resulted in reactions that have only exacerbated the problem.

First, employers begin to claim that a college education is a job prerequisite, even for those which it's clearly not necessary, simply because they can. Take, for example, the position once known as secretary. Now, before all you little ladies email me nastygrams, I chose this job as an example because it's something with which most people are familiar, not because I think a stupid person could do it. On the contrary, it's very difficult work dealing with terrible people that is largely thankless, except when it comes to corkboard space for Cathy cartoons. I respect secretaries. Especially when they're hot and wear short skirts.

I'd speculate that, as late as 1990, very few secretaries held college degrees. Today, though the title has changed to receptionist or office manager or assistant, the job duties remain essentially the same. If anything, I'd guess the work's gotten easier, what with copy machines replacing mimeographs, direct voicemail, computers loaded with solitaire, and sexual harassment laws. But ask around and I think you'll find that about 70% or more of secretaries now have college degrees. The difference, of course, is that secretary was once a career. Today, like every other god damn job, it's a stepping stone to something else that will never materialize.

In reaction to job qualification inflation is an increase in graduate school enrollment. Predictably, this is followed by a glut of graduate school graduates. Glamorous teaching jobs such as those in college, already scarce because of tenured baby boomers, drive those with advanced degrees into the non-education job market. There they begin to compete with the already fucked bachelor's degree holders. Soon, the secretary with the BA in English has been replaced by a much less cute chick with an MFA in Poetry.

Recognizing the inflation of job prerequisites and increased competition, people realize that, to land any decent job, a college education is necessary. Demand for undergraduate and graduate schools increases. The higher education industry responds, and colleges grow in size and number. Cost increases while admission criteria fall. Now there's a college for everyone, no matter how stupid. In fact, there's a grad. school for everyone, as long as you can pay.

This, of course, while high schools crumble nationwide.

Let's summarize. Today, we have stupider college graduates competing for the same jobs smarter high school graduates used to hold happily. We have a public primary education system being slowly replaced by a private secondary education system that provides schooling the quality of which varies wildly. We have a system in which, essentially, the test of whether you deserve a job is how rich your parents are or how much debt you're willing to take on.

We have a nation of BA's mowing lawns, baristas with Master's degrees, and book store clerks with Ph.D's, all of whom think they're overeducated and underemployed, when, in reality, they've just invested more money in a lot of weak education. And what solace do we, as a society, offer these poor souls? Blogs.

If I were a father of a high school senior, I'd encourage him to become a contractor. Those guys make a shit load and they get to write off their trucks.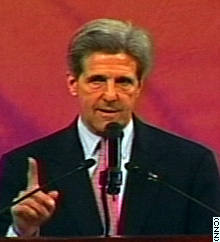 Analogcabin @ 10:52 AM
Permalink |
-------------------------

Monday, June 28, 2004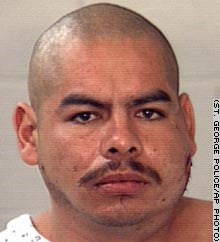 As if his face alone weren't enough for a conviction, police in Salt Lake City actually watched as Valentin S. Echevarria, above, stabbed his girlfriend's 6-month-old son. The child will live and Echevarria is in custody, so I guess it all worked out. Still, I'm unsettled by the story for reasons beyond that I find attempted infanticide offputting. Consider this:

When officers saw Echevarria stab the baby, they tried to subdue him with the beanbag rounds, then bullets....

It took a bullet in the hip before he was subdued enough for the cops to grab the baby.

What bothers me here is that some police will beat you mercilessly for misbehaving at a protest while others refrain from blowing your head off when they watch you stab a baby, opting first for fucking bean bags.

Some people deserve an 8-inch-hole in the back of their head. Others would be fine after a stern talking-to. As a nation, I wish we'd demand our law enforcement officers and, moreover, our legislators figure out which are which.
Analogcabin @ 10:15 AM
Permalink |
-------------------------

Last week the FBI issued a warning to law enforcement agencies nationwide suggesting they be on the look out for booby-trapped floating material in marinas and seaways. They went on to qualify the warning with the statement that there is "no intelligence terrorists are planning to or want to do this."

So in the tradition of that, I'd like to offer you all a warning: Be on the lookout for the release of a completely hot anal sex tape featuring myself, Marilu Henner, and Marg Helgenberger. There is, of course, no evidence that implies said tape's release or that said tape exists, but be on the lookout.

One note: I give the anal in the said tape, should it exist.
Analogcabin @ 7:13 AM
Permalink |
-------------------------

Thursday, June 24, 2004
Today's issue of the New England Journal of Medicine contains a report on a super strong seven-month old übermensch born in Germany. Like the Germans need any encouragement.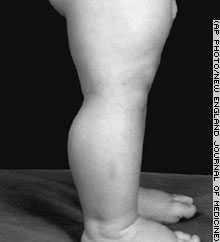 He's got legs. He knows how to use them.
Analogcabin @ 2:17 PM
Permalink |
-------------------------

Wednesday, June 23, 2004
My love for American Idol has been chronicled here many times, so I don't have to go to great lengths describing how enthusiastically I read the interview with Fantasia Barrino on CNN.com today. Let if suffice to say that I was not so enthusiastic that my pants were around my ankles, but I read it more enthusiastically than I read the story about South Korean response to the beheading of one of its citizens. Things about both articles puzzle me, however. Find them below, you lucky you, you.

I'll begin with Fantasia. I wasn't upset by the descriptions of her irresponsible, especially for a young mother, fiscal behavior prior to being on Idol. Nor was I upset that she's chosen to drop the Barrino and go only by Fantasia. Why should that upset me? I've given a great number of dollar bills to lovely young women named Fantasia who've made the same decision to drop their surnames. What upset me, and greatly, was this picture: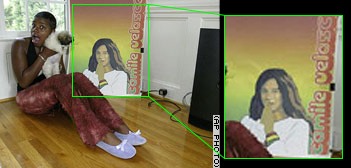 While I agree that Camile Velasco is quite lovely and perhaps even worthy of a portrait, I find that Fantasia has a crudely painted pictured of her former competitor in her home offputting at the very least.

And now for South Korea. Obviously, I was upset by the beheading. I'll go on record right now as saying that I think beheading is a really awful thing, both to do to someone and to have done to you or someone you love. I was also kind of upset by the notion of an Asian person in the same place as an Arab person. I don't think I've ever seen that before and, for some reason or another, those two races exist in almost different dimensions in my mind. Before this, picturing an Asian and an Arab in the same room was like picturing a flounder in a kangaroo's pouch. But what really grabbed me about this story is, again, the picture: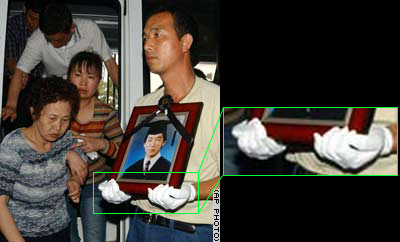 Why do Asian people wear those white gloves all the time? Not only is the guy holding the picture wearing them, but if you look closely, it appears as though the younger woman center has a pair in her hand. Maybe she's carrying the distressed old woman's gloves. Looking at this image, you might think the white gloves are ceremonial. I've been to China, though, and people wear them all over the place. Especially the cab drivers. Now, unless they're mourning the passing of their steering wheels, I think there's another explanation. If I knew any Asians, I'd ask them.
Analogcabin @ 10:42 AM
Permalink |
-------------------------

Tuesday, June 22, 2004
The controversial unsealing of papers related to the divorce of Jack and Jeri Ryan has everybody searching. Illinois Republicans are franticly searching for a way to replace Ryan in the race for the Senate seat vacated by Pete Fitzgerald. On the other hand, Jack's opponent in the race, Barack Obama, is searching for a good deal on an apartment in DC. And Trekkies worldwide are searching Google for pictures of Jeri to accompany masturbation inspired by the image of the Borg beauty involved in a gang bang at a Parisian sex club.

Me? I'm doing some soul-searching.

But let me take a step back. Rumors have long circulated that the papers contained something disastrous for Ryan's political aspirations. Speculation on the exact charges ranged from adultery to physical abuse. A number of local media organizations sued to have the documents unsealed -- something both Jeri and Jack opposed vigorously on the grounds that what was contained would be deleterious to their young son. On Friday, a judge ordered the release of portions of the papers, stating that the public interest outweighed what he admitted would be a negative impact on the boy. The details of the papers hit media outlets today.

In the custody hearing, Jeri claimed that Jack took her to sex clubs three times in 2000 -- one in New Orleans, one in New York, and one in Paris. During these visits, he tried to convince the Star Trek starlet to assimilate his photon torpedo while the other patrons watched. She began to cry and refused, at which point Jeri claimed that Jack "became very upset with me and said it was not a turn on for me to cry."

Obviously this is wrong of Jack. Crying is most definitely a turn on.

What's got me soul searching is whether Obama or Ryan should get my vote. If voting were solely about political beliefs, the ironically Klingon-named Barack Obama would get my vote every time. But I think we all know that winning an election is about being cool. In that respect, I think these allegations demand I give Ryan another look. I mean, marrying a hot actress is pretty cool, especially when you're a Republican. Taking her to a sex club is also kind of cool, if a little smarmy. Telling your hot actress wife to stop crying because it's a turn off is wrong, but cool in a boldly misogynistic way. And staying in the Senate race after all this is revealed to the public is fucking-a right cool in a 1978 Plato's Retreat kind of way.

Ultimately, though, Obama is still going to get my vote. My reasoning is that, in the end, Jack Ryan was never able to convince Jeri to get her gang bang on. In order to get things done in Washington, you've got to be pretty convincing. If you can't convince your actress wife to engage in a little exhibitionism, which should be like convincing a gazelle to leap, then you're just not going to represent me in office.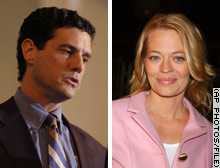 Sex in Boston Public
Analogcabin @ 7:54 AM
Permalink |
-------------------------

Monday, June 21, 2004
SpaceShipOne, the privately-developed spacecraft named very much like it was in the G.I. Joe fleet, blasted into space today. And in so doing, CNN tells us, into history.

Unfortunately, judging by his words after coming down, astronaught Mike Melvill was on acid during the whole... ah, trip.

Looking from the Earth up there, you know, it's almost a religious experience. It's an awesome thing to see. You can see the curvature of the Earth. I could see all the way out, way out past the islands off the coast of Los Angeles.

Melvill added, that "the colors were pretty staggering."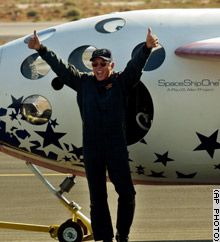 Fuckin' A.
Analogcabin @ 2:38 PM
Permalink |
-------------------------

As a nation, I think we've all grown up a lot since the days of Michael Keating can-do campfest Gung Ho. What I mean to say is that I don't think I'm raining on any parades by saying that the war's over, people, and the Empire of the Sun won. They make cars better than we do -- just ask anyone that's ever experience the unbridled resale value of a Civic. By any scientific measure (liter of doodie/released title) their porn is way hotter. While we suffer Super Millionaire silently, they continue to break new game show ground. They're even catching on to the baseball thing.

So what's their secret? Consider this: American students that write letters in blood do it in their bedrooms with Issues on repeat after their parents won't buy them tickets to Ozzfest. Japanese students write letters in blood in their high school's faculty lounge after they fall asleep in class.
Analogcabin @ 7:04 AM
Permalink |
-------------------------

Friday, June 18, 2004
If I have a weakness today beyond being very tired and having syphilitic fever, it is loving too much.

Take this piece on WULAD, for example. I love it. Too much.

But if loving too much makes me weak, I don't want to be decapitated in a Saudi Arabian hovel, leaving my mail order Thai widow to weep among the wolves.
Analogcabin @ 12:10 PM
Permalink |
-------------------------

Maybe I lost my edge, if I ever had one, but I simply can't find anything bad to say about the news that Wendy's has begun to open stores sans indoor dining areas, instead opting for a cheaper drive-through and walk-up window only method of shilling squareburgers. I realize that there's probably at least one fast food and fat people joke in there, and something tells me a Segway could be involved, but, really, I don't feel the least bit cynical about the decision on the part of the Thomas gang. Only poor/dusky folk actually eat in fast food dining rooms, anyway, so I think closing them is a wholly good decision.

And, while I'm on the topic, if you've never had a meal of a Jr. bacon cheeseburger, small chili, fries, and Dr. the Pepper, you haven't lived.
Analogcabin @ 10:18 AM
Permalink |
-------------------------

Some programmer at the University of Chicago undertook a project to parse and analyze the reviews on Pitchfork, he called it Pitchformula, and it was good.

I'll admit I didn't get all that much of the project's abstract, but I understood enough to realize it's a perfectly brilliant shit take on the preposterously pretentious site. And after a little further consideration, it's clear to me that no person could have executed so perfect a comment on Pitchfork other than a database engineer. Such a person is the ying to the Pitchfork writers' yang. Like a chemist working for Coke to a sommelier.

Somewhere, a pale 24-year-old man in threadbare "Make Mine Vinyl" t-shirt is scratching out his eyes while Nick Drake rareties play quietly on the turntable.

Via TTBBBE
Analogcabin @ 6:57 AM
Permalink |
-------------------------

Wednesday, June 16, 2004
I'm not much of a giggler. I haven't been since I was a boy. I chuckle. I sometimes titter. But I rarely if ever giggle.

Tonight I'm staying in a hotel. A swankish francophilic hotel called Sofitel. After checking in, donning the robe, and unpacking, I ordered a little dinner. The very friendly gent that took the order repeatedly referred to me using the salutation "doctor."

I'm not a doctor, though it has been suggested I should receive an honorary doctorate in lovemaking and not only by me. Perhaps it's because I'm not a doctor that I cannot describe the thrill of being called doctor. I found it overwhelming. So much so that I actually giggled on the phone to the room service guy.

Light posting Thursday, if any, but I never really loved you anyway.
Analogcabin @ 10:32 PM
Permalink |
-------------------------

There are times that I'm certain Reuters' writers craft passages specifically to bait bloggers. It's as though they know, as serious reporters, they can't make the joke, but as citizens of the world, they know they cannot let the joke go unmade.

Here's the perfect example, from an article on the charges of rape and sodomy of a child leveled against Sgt. Marc Palmosina -- the key investigator in the case of the Guantanamo translator charged with espionage.

Halabi's attorney told reporters that Air Force Sgt. Marc Palmosina, who had overseen the probe against his client, had been charged with raping and sodomizing children, some as young as 11 years old, on numerous occasions, and with mishandling classified documents.

So it is for you, my anonymous Reuters amigo, that I make this joke:

Sounds like there was more than one probe he was overseeing.
Analogcabin @ 8:58 AM
Permalink |
-------------------------

Tuesday, June 15, 2004
Competition for writing jobs in Hollywood is cutthroat.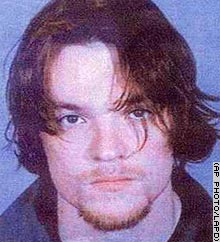 Analogcabin @ 7:12 AM
Permalink |
-------------------------

I know I'm a day late, but I thought it was important that I insure everyone is clear on something about Sunday's season premiere of Six Feet Under.

You know that scene in which Nate wrestles with Lisa's body before climbing out of the grave into the dawn light? It was symbolic.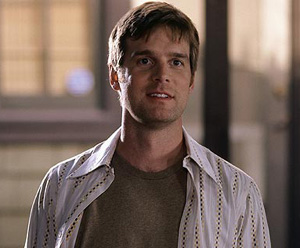 Nate Fisher, above, is prepared get over the death of his wife, Lisa.
Analogcabin @ 6:18 AM
Permalink |
-------------------------

Monday, June 14, 2004
Time after time you've proven to the world that a man with more money than sense can set world records freely, especially when no one's considered keeping said records prior to your suggestion because they relate to crossing great distances quickly in the least practical mode of transport conceivable. Well, Richard Branson, you magnificent bastard, you've done it again. Your two hour crossing of the English Channel in an amphibious car will go down in history as not only the fastest crossing of the Channel in amphibious car, but as more evidence that money simply cannot buy sense and no number of world records is enough to provide the self-esteem that being cursed with a cocktail wiener between your pasty thighs deprives.

Meanwhile, Europe continues to feel comfortable flying in planes owned by a man that seems to think balloons are a better way to go.

Next up for Branson, crossing Antarctica in a motorized wheelchair.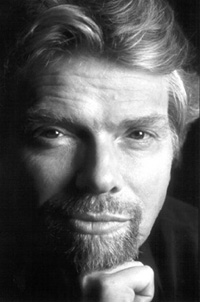 Captain Fantastic
Analogcabin @ 7:08 AM
Permalink |
-------------------------

Friday, June 11, 2004
We've heard a lot about Reagan and Ray Charles over the past few days, but I think it's time we started eulogizing this guy.

Did Ray Charles die in the middle of playing a beautiful version of "Georgia on My Mind?" No. Did Reagan die while invading Granada? Probably not, though who can be sure? But there's no doubt that KETV news photographer Jeff Frolio was run over while shooting footage for a story on a dangerous intersection.

Having done great things in your life is one thing. Dying while doing them is another.

Frolio was named the Nebraska Television Photographer of the Year not once in his career, but twice. That doesn't happen by avoiding the dangerous local news assignments. So while this "Killer Intersection" turned out to be his last, it certainly wasn't his first. As a memorial, I've listed below some of Frolio's most memorable and dangerous work:

First at Five
"Is Your Home a Carbon Monoxide Trap?"
"Are You Cooking with Salmonilla?"
"Homocidal Highways"
"Mommy, I Swallowed a Spirochete!"
"Creeping Mold"

Eye at Five
"Stars, Bars, and SARS?"
"Cruisin' for a Bruisin'"
"Radon: The Invisible Killer"
"The Molester Next to Her"

Eyewitness News at 11
"Y2K: Are You Prepared for Armageddon?"
"Polly Want West Nile Virus?"
"Radon: The Scentless Assassin"

Live at Five
"Is Your Barbecue a Recipe for Disaster?"
"Tick, Tick, Tick: Countdown to a Lime Disease Holocaust"
"Highway to Hell"
"The Spores Next Door"


Analogcabin @ 7:17 AM
Permalink |
-------------------------

Thursday, June 10, 2004
I simply can't see my way to make a joke about this.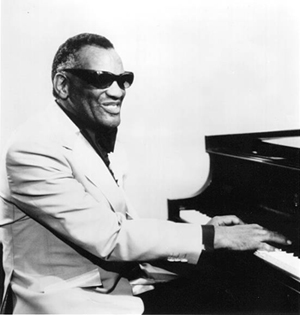 Analogcabin @ 1:52 PM
Permalink |
-------------------------

Wednesday, June 09, 2004
As a result of Reagan's death we've all endured a week-long romanticization of his life by the media and the American public, myself included. It's certainly respectful, heart-warmingly patriotic, and perhaps even warranted. Nonetheless, it can burn a brother out.

I think that's why I found news of the discovery of a poem penned by Abraham Lincoln heartening. It's called "The Suicide's Soliloquy," and it was written in the time following the break of his engagement to Mary Todd. Some will say it shows the human side of a man deified in America. I say it's a reminder that even our most revered political figures engaged in the historical equivalent of scribbling Nine Inch Nails lyrics on the cover of a three ring binder.

And so, with no further ado, I give you...

The Suicide's Soliloquy
By A. Lincoln, on this day Twenty and One May, Eighteen and Thirty-Eight.

Like a velveteen mantle
cloaking dewey eyes,
my shiv'ring does dismantle
my high-pitch'ed, wailing cries.

Like Mary, Mum of Jesus
my Mary, too, left me
to Roman Jewish teases
my soul yearns to be free.

I tow'r, creak and swaying
above the Earth below
like Jesus, I am praying
my demise doesn't slow.

I hurt myself today
to see if I still feel
I focus on the pain
the only thing that's real

Oh, Mary, how I miss you
I miss your lack of meanness
Oh, Mary, I wish I loved you
If only you had a penis.
Analogcabin @ 11:16 AM
Permalink |
-------------------------

First off, I want to apologize for the incoherence of yesterday's posts. It was the first time I tried out Blogger's new email-to-blog feature. Handy, except when you're typing on a cell phone through a Yahoo! account that tags every email with advertising. In the end, I think we can all agree that it wasn't worth the not insignificant effort required.

And so you know, I was suffering through an all-day training session on, basically, how to be nicer at work. For example:

Instead of saying, "I can't have it on the 2nd," say, "I can have it on the 22nd." Or, in my case, don't say, "I don't want to live," say, "I want to die."

What I really wanted to do was post pictures from my phone cam. I couldn't figure it out, though, because when you email pictures through Sprint, they just send a link to another website. If anyone has an idea how I could've done it, let me know.
Analogcabin @ 6:13 AM
Permalink |
-------------------------

Tuesday, June 08, 2004
So this is what posting from the phone is like. Yet another completely unsatisfying thing about today.
Analogcabin @ 12:13 PM
Permalink |
-------------------------

I'm in the midst of the worst kind of corporate hell
all day so posting will be light. I have on doubt
you'll survive but I don't know if I will.
Analogcabin @ 10:31 AM
Permalink |
-------------------------

I just learned that I have both internal and external
customers. Imagine! I want for death to take me now.
Analogcabin @ 9:54 AM
Permalink |
-------------------------

Monday, June 07, 2004
Kobe Bryant's lawyers have subpoenaed text messages sent by his alleged victim on the night of their as yet to be characterized backdoor encounter. Though it's not the first time mobile phone text messages have been subpoenaed for use in a criminal trial, it's certainly the most widely publicized case. The mainstreaming of the practice might have far-reaching implications for those with text messages they'd prefer be kept private.

It's with that in mind and in the interest of full disclosure that I've provided you the below list of the text messages I've sent to date, in chronological order.


12.13.03 10:13: hi trying txt messages callme if u get this
12.13.03 10:17: cool
02.06.04 14:46: this meeting sucks
03.29.04 08:53: im on the plane. fat fucker next to me spilling over armrest on to my lap.
04.01.04 11:12: dude. i have aids
04.01.04 11.33: april fools, bitch
04.06.04 20:01: camile velasco
04.09.04 14.14: this meeting totally blows ass
04.13.04 20.06: camile velasco
04.20.04 20.03: fantasia barrino
05.01.04 11.13: this meeting is total fucking bullshit
05.25.04 20.16: fantasia barrino
06.06.04 12:17: j.lo got married!! omg! call me!

Analogcabin @ 11:07 AM
Permalink |
-------------------------

As this is a blog and I am a blogger, mentioning the Lopez/Anthony nuptuals and the finale of The Sopranos is pretty much obligatory today. I figured I might as well get both out of the way in one post.

Now I'm all for ugly guys having sex with hot women, but Marc Anthony? Isn't he pretty much a less attractive Steve Buscemi?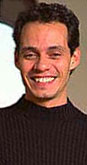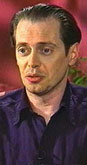 Analogcabin @ 10:06 AM
Permalink |
-------------------------

Sunday, June 06, 2004
J-Lo marries yet another sucker.

Reagan's the lucky one. We have to put up with who knows how many more of these.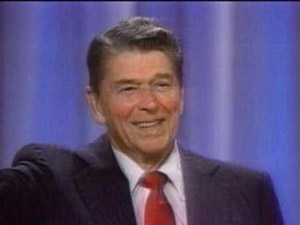 Analogcabin @ 4:37 AM
Permalink |
-------------------------

Friday, June 04, 2004
Lest you get swept up in all the sympathetic furor over the Scripps National Spelling Bee, remember that there are plenty of valid reasons that geeks get beat up.

Take, for example, Charles Elachi. When asked to justify the Cassini Saturn probe's 3 billion dollar price tag, he said, "The objective ... is very simple: It's to allow us to rewrite the story of the lord of the rings."

Give a bunch of geeks 3 billion to spend, and you're pretty much inviting that kind of snide, self-righteous dorkiness. We should be glad they didn't spend it on fuckable android versions of Erin Grey.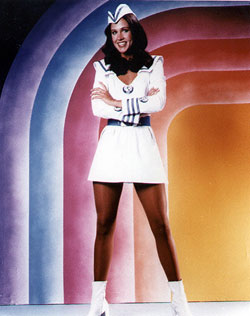 Analogcabin @ 11:14 AM
Permalink |
-------------------------

Alopecoid Jess Blueprint says he's "an inspiration" because he fainted, rose, and took one step closer to being crowned Prince Dorktasm.

Well, that, or an American tragedy playing possum in a Pavlovian reaction to stress usually triggered by calls of "Hey, Punjab!" that are followed up with brutally painful wedgies resulting in torn and soiled underwear being fashioned into a turban of adolescent shame.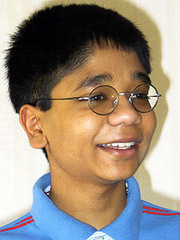 Crazy like an alopecoid nerd.
Analogcabin @ 6:21 AM
Permalink |
-------------------------

Thursday, June 03, 2004
I bet we've been out drinking like a million beers.
And I bet we'll be out drinking like a million more.
Oh, it's like I started driving all completely pissed,
and I can't remember anything I did before.

And there ain't no
nothing we can't love each other through.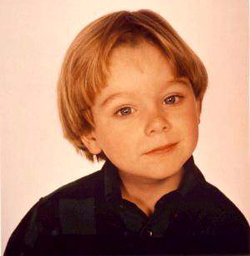 Sha la la la.
Analogcabin @ 8:14 AM
Permalink |
-------------------------

Reports are hitting the wires that CIA Director George Tenet has resigned while Colin Powell looked on enviously. His departure paves the way for the nomination of someone more thoroughly frightening, perhaps in the caste of Rumsfeld, Wolfowitz, and Rice.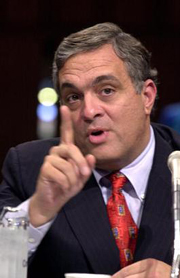 Fare thee well, ancient mariner.
Analogcabin @ 7:51 AM
Permalink |
-------------------------

Wednesday, June 02, 2004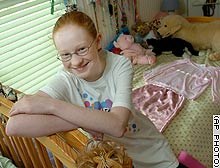 Above is Ella Gunderson, and this is her tale. She's an 11-year-old girl who, upset that the only clothing available to her is low-slung, tight, and diaphanous, wrote executives of clothier Nordstom's to request they make more modest apparel available. The missive is excerpted below:

I see all of these girls who walk around with pants that show their belly button and underwear. Your clearks (sic) sugjest (sic) that there is only one look. If that is true, then girls are suppost (sic) to walk around half naked.

After seeing her picture and considering her letter, I thought to myself, I thought ugly girls were supposed to be smart?
Analogcabin @ 12:31 PM
Permalink |
-------------------------

Before I begin, let me get one thing straight: I'm way more in favor of Philadelphia's new commercial directed at gay tourists than most of the city's more cheese steaky residents. I watched The Furniture Guys, for god's sake. I'll even refrain from making a joke about it being the City of Brotherly Love, instead stating simply that I'm totally behind it.

What upsets me about the article is contained in the below:

The commercial is the first TV ad by a destination -- such as a city or resort -- to target a gay audience, said Mike Wilke, executive director of the Commercial Closet Association, a nonprofit group that tracks gay representation in ads.

There is a nonprofit group that tracks gay representation in ads called the Commercial Closet Association and it employs someone named Mike Wilke. Yet I cannot find a new job.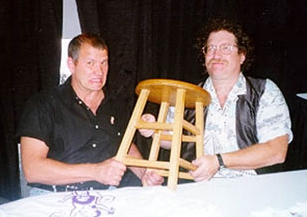 Analogcabin @ 9:23 AM
Permalink |
-------------------------

Tuesday, June 01, 2004
It looks like we'll have to wait a while longer for Live Aid 2: Live AIDS.

U2 frontman Bono was in the news today denying rumors that he and the inexplicably famous Bob Geldof are planning a second Live Aid to fight AIDS. When asked why no concert, Bono said, "AIDS and hunger are totally different. You can't go without eating, but you can certainly live without bareback anal. You might not want to, I certainly wouldn't, but you can do it."

The first Live Aid concert, in 1985, eradicated hunger in Africa.

But lest you despair, that the completely irrelevant Bono is in the news at all proves that charity isn't totally dead, at least on the part of the media.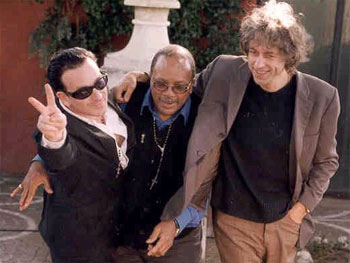 Bono, left, prepares to receive a handjob from Quincy Jones, center, while Bob Geldof, right, watches.
Analogcabin @ 11:23 AM
Permalink |
-------------------------

This weekend, as a memorial to America's soldiers, those living and those dead, I had two bratwurst, two Italian sausages, one and a half grilled cheeseburgers, two steaks, a Burger King bacon double cheeseburger, two large Burger King French fries, a large McDonald's French fries, six chicken McNuggets, a McDonald's double cheeseburger, french toast, six Swift Premium Brown and Serve sausages, a bagel, a small Dairy Queen Blizzard containing cookie dough and Reese's Pieces, two baked potatoes with sour cream, a number of shrimp, cheddar and other cheeses with crackers, chips and dip, two pieces of cake, a large chocolate chip cookie, approximately ten Corona beers, eight Guinness beers, two glasses of wine, a glass of port, a glass of Jack Daniels sour mash over ice, two cigars, and a number of soft drinks.

I am a patriot.
Analogcabin @ 7:15 AM
Permalink |
-------------------------