Wednesday, October 12, 2005
It's no secret that I'm one of the nation's most beloved people. And why shouldn't I be? The Spoonbender has become an internet institution -- as venerable and respected as any blog, fansite, or message board out there today. And in my time authoring this greatest of places to wile away three to four minutes, I've seen a million news stories. And I have to admit that I've rocked them all. But you're not the only ones who have benefitted. Rocking all that news has taught me a few things. One of them -- the one that comes to mind today -- is that history repeats itself, especially when stupid people are involved.

It seems like only 15 months ago when I covered the birth of Jango Duggar -- the 15th child of Jim Bob and Michelle Duggar. Well, today Michelle shat out lucky number 16. The girl, Johannah Faith Duggar, can look forward to a life of being mistaken for a stranger on multiple occasions by three of her sisters, being diddled by the second most maladjusted of her brothers, being left in the grocery store twice and the Wal Mart three times, being forced to attend community college because her parents ran out of money sending child six, Jemima, to Indiana, and being the AVN award winner for Best Double Anal Scene in 2022 and 2023.

That's right at 17.

Happy birthday, Johanna. It's not your fault your parents are idiots, but you're sure going to have to pay for it.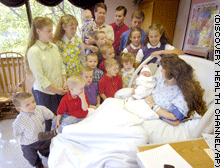 Johannah Duggar, above somewhere, gets mugged by a mob and wonders why she couldn't have been born to parents that aren't crazy, like the Tom Cruise and Katie Holmes.


Analogcabin @ 4:38 PM
Permalink |
-------------------------