Tuesday, November 25, 2003
As I prepare to return to my ancestral home for Thanksgiving, I was inspired to publicly give thanks that I'm not Glen Campbell.

It has been widely reported that Campbell was arrested for "extreme drunk driving" at 5 pm yesterday, lending merit to rumors that Campbell followed up his hit CBS series The Glen Campbell Goodtime Hour with The Glen Campbell Goodtime Happy Hour. He was once a lineman for the county, now, sadly, he can't even walk a line.

As an expression of my thanks for not being Glen Campbell, I plan to record song parodies over the holiday. They will include "Wichita Wine-man," "Wine-stone Cowboy," and "By the Time I Get To Phoenix (Jail, I'll Be Drunker Than a Fucking Monkey.)"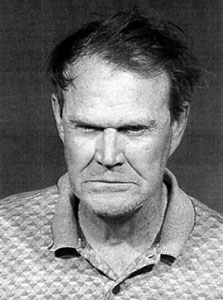 Perhaps I'll post over the holiday and perhaps I won't. Enjoy it, unless you're not American, in which case you should kiss my red, white, and blue ass.
Analogcabin @ 2:04 PM
Permalink |
-------------------------