Tuesday, April 10, 2007
Reading through The Huffington Post today I found the positioning of the below kind of funny. Not sure if it was intentional or serendipity.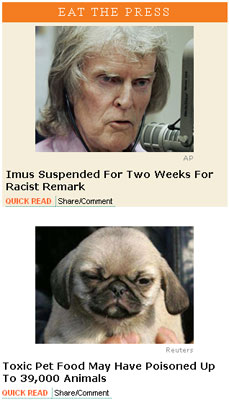 Imus' ridiculous visage aside, I'm not entirely sure why anyone cares about his comments. I mean, sure, it was racist, but it's Imus we're talking about, not Bob Schieffer. Nobody listens to this old coot, and I don't know if they ever did. He's a retarded man's Larry King, who himself is a slow man's Matt Lauer.
Analogcabin @ 8:20 AM
Permalink |
-------------------------