Tuesday, September 06, 2005
Apparently unsatisfied with the litany of depressing Katrina photos posted over the weekend, CNN.com responds to the death of Bob "Gilligan" Denver with the below. The photo, of a white-haired and frail Denver forcing a pitiful smile during what was undoubtedly one of countless ignominous public appearances, captures the actor at his absolute professional and personal nadir. When we weep for Denver, we weep for us all.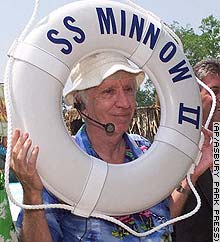 The tiny ship we call "hope" is lost.
Analogcabin @ 1:35 PM
Permalink |
-------------------------