Monday, December 13, 2004
I'm sure you've all heard about the plot to poison Ukrainian politician Viktor Yushchenko with dioxin, and the remarkable transformation his face has undergone as a result. But what you might not know is how the condition could progress.

Thanks to computer technology, I can provide you with the below predictive approximation.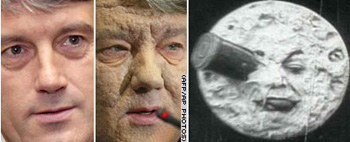 From left, Yushchenko before dioxin, now, and how he may look soon.
Analogcabin @ 9:25 AM
Permalink |
-------------------------