Friday, December 03, 2004
I'm going to go on the record right now. I support free speech. The exception would be in the case of the very stupid.

I know what you're thinking: But where do you draw the line, O Hated Author ofThe Spoonbender? While we all agree that you're very intelligent, who decides which members of our stupid on average society are too stupid?

Rather than answer that question, let me share something with you. Recently a Grand Island, New York bus driver was fired for sharing information about stem cell research with the students on her bus. Specifically, she quoted Mel Gibson as saying that no human cure has resulted from 23 years of stem cell research.

An aside: Grand Island is the world's largest inland island.

The way I see it, this issue is not about whether or not you agree with stem cell research or whether a person should be allowed to share those views in the workplace. The issue is that the bus driver is clearly very stupid because she quoted the man who played Rick Jarmin in Bird on a Wire as a source for scientific fact. She was, therefore, justly fired.

The moral of this story is that school buses are no longer a refuge for the stupid. Be warned.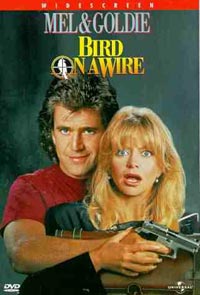 Analogcabin @ 12:31 PM
Permalink |
-------------------------