Wednesday, December 08, 2004
I don't know what's becoming of me, but I almost cried while reading this story about gorillas mourning the death of one of their group.

Maybe if gorillas wrote blogs and complained about their stations in life a little more, I'd have an easier time calling them whores.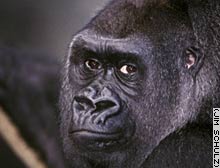 RIP, Babs.
Analogcabin @ 9:42 AM
Permalink |
-------------------------