Thursday, November 11, 2004
A jet carrying Prince Charles' sister, Princess Anne, was involved in what the kingdom's National Air Traffic Service called with charming British understatement "an air promximity incident." According to a spokesman, the only thing that averted a mid-air collision was the other plane's last minute glimpse of Anne, which "causes even inanimate objects to recoil in horror."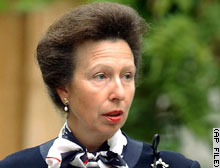 A bit like Charles in drag, innit?
Analogcabin @ 11:13 AM
Permalink |
-------------------------