Wednesday, November 17, 2004
In a move that shocked even his staunchest critics, President Bush today nominated Tori Spelling to be the nation's next Secretary of Education. Spelling, best known as Donna on TV's Beverly Hills 90210, is not known to have experience in either public service or education.

"Perhaps President Bush has confused Spelling with spelling," speculated Senator Arlen Spector (R-PA.) "Either that, or he's thinking with his dick. And I don't mean Cheney."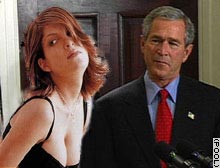 Analogcabin @ 4:13 PM
Permalink |
-------------------------