Monday, August 23, 2004
I don't think the question should be why they were killed, it should be why weren't they killed sooner? I mean, look at the fucking goatee. Seriously, Flea: wake up and smell the 2004.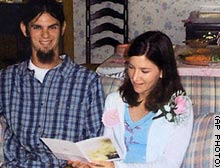 Counselor Brillochin presents his chaste intended with a card apologizing in advance for the inner-thigh and rectal area rashes she's about to suffer.
Analogcabin @ 12:45 PM
Permalink |
-------------------------