Wednesday, August 25, 2004
Despite the Bush campaign's denial of involvement with the group Swift Boat Veterans for Truth or it's controversial attack ads, Bush campaign lawyer Benjamin Ginsberg resigned today after admitting he provided the group legal advice. It is the second resignation by a member of the Bush campaign over involvement with the 527 group.

When asked to respond to the resignation and how it appears to prove true the Kerry campaign's earlier assertion that the group is a front for the Bush campaign, the President said, "I think we all know what's going on here. Benjamin Ginsberg? Let me spell it out for you folks: G-E-W. They betrayed Jesus, and they betrayed me."

It is thought the President intended to spell Jew, though the White House will neither confirm nor deny.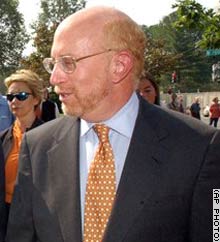 The Gew in question, Benjamin Ginsberg.
Analogcabin @ 1:43 PM
Permalink |
-------------------------