Monday, January 26, 2004
The uproar over the Pope's alleged and later recanted endorsement of Mel Gibson's The Passion hasn't dissuaded the pontiff from indulging in the arts. CNN reports that a troupe of Polish breakdancers performed at the Vatican today. At one point it was unclear whether John Paul was attempting to emulate the robot or was simply wracked with Parkinson's tremors.

When the performance concluded, the Pope said, "It is as it was -- fresh."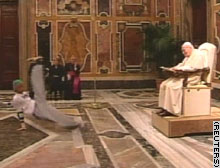 A View from the Phatican

I could have gone for the Polish breakdancer joke, but this Mel Gibson thing seemed more topical.
Analogcabin @ 10:47 AM
Permalink |
-------------------------