Wednesday, September 28, 2005
While we Americans are concerned with our various colonies' untameable natives, our various submerged cities, and our various indicted politicians, the Japanese are taking the fuck over.

To wit: that wiley Tojo just photographed a giant squid. You heard me right. A giant fucking squid -- the arch-enemy of Captain Nemo and the Sea Serpent, and the sea-going cousin of the Sasquatch and Chupacabra.

While our priorities are elsewhere, what next? Will they invent the perpetual motion or the fuckable slot machine?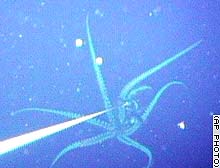 The giant squid, above -- an American dream, a Japanese reality.
Analogcabin @ 3:15 PM
Permalink |
-------------------------