Sunday, September 11, 2005
While I'll grant that it's not a disaster quite on the scale of Katrina, today I find myself inconvenienced at the hands of an equatorial storm. Whatever typhoon hit Shanghai yesterday caused my flight to be redirected and delayed overnight, and so it is I find myself in a room at the Narita View Hotel on the outskirts of Tokyo watching Larry King conduct a remarkably insulting interview with the Dalai Lama. Maybe I've gone native, but something about seeing a leathery old Jew like King interrupt a man believed by millions to be the reincarnation of Buddha by saying, "Just hang on a second Your Holiness, I'll be right back to you," enrages me.

After an evening of frustrating attempts to call my hotel in Shanghai, I noticed the below in the hotel's elevator. It's a poster frame, at the top of which is engraved the word "Information" in English. While I appreciate that level of accommodation, if no part of the poster contained therein is in English, isn't the single word not much more than a taunt?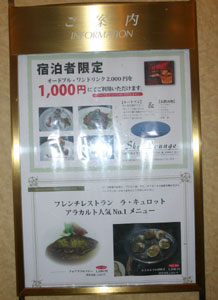 Analogcabin @ 10:17 PM
Permalink |
-------------------------