Friday, May 27, 2005
While all my mates dauwn undah are up-in-arms over the conviction of Australian hairdresser Schapelle Corby and her subsequent sentencing to 20 years in a Balian prison, I haven't heard enough about about the case to come down on one side of the issue or the other.

On one hand, I find it really difficult to believe that anyone would smuggle nine pounds of pot into Bali. Isn't that like bringing sand to the beach? But on the other hand, look at her. The glassy, lidded, red eyes -- she's obviously stoned out of her fucking gourd.

In the end, like most of us, I'd rather err on the side of guilty. Let's be honest: What hairdresser do you know that couldn't use about 20 years in a third world prison?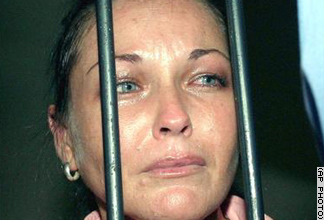 Take another bong rip, Cheech.
Analogcabin @ 11:39 AM
Permalink |
-------------------------