Thursday, May 26, 2005
There are many among us quick to claim that the media is little more than a radically liberal instrument of the global Jewry, but I am not one of them. While I will admit that the global Jewry stirs many, many pots with its slender, slimey fingers, I tend to believe that the American mainstream media is safely in the pocket of the much more reactionary military-industrial segment of the worldwide Masonic conspiracy.

That said, I find it difficult to explain why CNN.com would run a story about a poll that found that a "
majority may vote for Clinton," especially when the same poll found that 39% of respondants were "not likely at all" to vote for Hillary should she run, as opposed to only 29% who were "very likely." Granted, a much higher percentage of people said they were "somewhat likely" than "not very likely" -- 25% to 7% respectively -- but I tend to believe that has more to do with Americans' inherant open-mindedness than any actual intention to vote for a dame.

I mean, seriously. A woman President? If that day comes, the terrorists really will have won.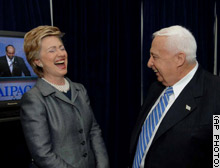 The Woman-Jewrian Candidate
Analogcabin @ 3:18 PM
Permalink |
-------------------------