Monday, September 27, 2004
Will the topsy-turvy world of late night television ever stop being so downright topsy-turvy? First Kilborn retires, and now this. I guess if there's one thing we can count on from the topsy-turvy world of late night, it's topsy-turviness.

Before we all start speculating on replacements, let's take some time to congratulate Conan O'Brien. He's really tall, after all, and a much funnier writer than he is a performer. Kudos, Conan! It's about time you got some recognition for going to Harvard and working on that Daily Pudding thing or whatever it is.

Now for the speculating. I can't confirm that any of these names are actually being considered for the two late late night hosting spots, but I can say that a friend of a friend might have recently been hired to fellate one of Hollywood's biggest power brokers, let's call him Spike Movitz, and, in the throes of man-on-paid-man passion, this list just might have fallen out the pocket of said power broker's dungarees.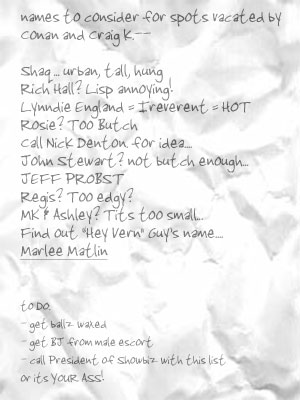 Analogcabin @ 1:02 PM
Permalink |
-------------------------