Thursday, September 09, 2004
Thanks to Community Voice Mail, a nonprofit that provides private voice mailboxes to the homeless, Mel Cornelison landed a job at Goodwill paying $5.68 an hour. That, my friends, is what we call uplifting. Consider this:

For now, the 40-year-old Dallas man still lives on the street. "But once I start getting paydays, I'll be able to not do that anymore," said Cornelison, who hopes to move into a motel, if not a more permanent home.

$5.68 and hoping to be able to move into a hotel soon, if not a more permanent home! All you glass is half empty people screaming that Bush hasn't done well for the economy, put that in your pipe and smoke it! If Mel's not the American dream, I don't know who is.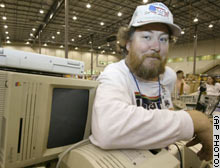 Mel Cornelison: America's Promise Fulfilled
Analogcabin @ 1:04 PM
Permalink |
-------------------------