Friday, September 10, 2004
Massachusetts Governor Mitt Romney narrowly escaped minor discomfort today when a boobie-trapped letter was intercepted prior to reaching him. The letter, which was mailed by an unknown person or persons in Nevada's Ely State Prison, was rigged with matches meant to ignite when opened.

At an afternoon press conference, an aid issued this statement from Romney:

Under normal circumstances I read each and every letter I receive from inmates of out of state prisons, because, though I govern only those inmates in Massachusetts penitentiaries, I think of myself as civil servant to all of America's convicts. Thank God, however, that my staff identified the letter in question before I was slightly inconvenienced and perhaps even shocked by the sight of a lighted match. The Lord has blessed me, and He has blessed Massachusetts.

What's more shocking is that the Romney letter was at least the eighth received by Governors nationwide. Matched-rigged letters originating at the Ely facility are known to have been received at Governors' offices in Montana, Texas, Idaho, Nebraska, Washington, Utah, and New York. It is unclear if more letters are en route to the United States' 42 remaining Governors.

"This is not the problem of one man or one state any longer...," said Secretary of Homeland Security Tom Ridge, "...it is the problem of all Americans. Whether Governor or garbage man, we can not leave mail from prisons unopened for fear of minor burn. There are some irritations for which there is not enough calamine lotion or aloe in the world. This madman can be permitted to terrorize us no longer."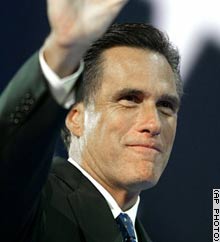 Massachusetts Governor Mitt Romney thanked God for saving him from a madman's matches.
Analogcabin @ 2:55 PM
Permalink |
-------------------------