Monday, September 20, 2004
Jeanne Wet, Getting Wetter

Tropical storm Jeanne has completely drenched the north Haitian city of Gonaives, leaving thousands more homeless than usual and killing hundreds. Further complicating matters is that the road into Gonaives is flooded.

Interim Prime Minister Gerard Latortue, whose grip on power in the troubled land is already tenuous, plans to appeal to the international community for help. Unfortunately, the international community intends to ignore his quasi-French pleas. "So the road into Gonaives is submerged," said International Community Chairman Frank Billingsly. "It's not like anyone wants to go there anyway. I mean, Haiti? Puh-leeze."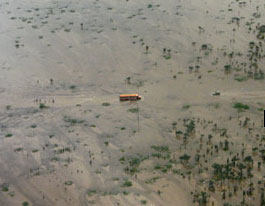 Analogcabin @ 11:41 AM
Permalink |
-------------------------