Thursday, September 30, 2004
Gene Oakerland: I don't want to say that it's unprecedented, but, well, it's absolutely unprecedented....

Aaron Brown: I think I speak for all of us when I say... ah... well, I'm speechless.

Bob Costas: Countless times throughout the storied history of Heaven and Earth have contenders taken a shot at the Champ. Some were pretenders, poachers, frauds, or jokes. Others were bona fidelis. But none have been able to put Him down -- the Host of Hosts, the King of Kings, He Whose Name Cannot Be Spoken, Yahweh. Those who said His Reign was without end obviously didn't count on this.

Gene Oakerland: Some would call it a real Pearl Harbor job, but you can't say that The Lord wasn't warned. I remember it like it was yesterday -- "another earthquake and I'm puttin' you down," he said, and he delivered, COD, no signature required!

Bob Costas: The Omniscient One was caught off guard, that's for certain.

Aaron Brown: And there was and he did and, well, I really don't think anything else needs to be said. The replay speaks... um... well, plenty.

Bob Costas: Right here! It was right here! With the speed of a ninja crossbred with a lynx and Carl Lewis....

Gene Oakerland: O My! He slips him into the camel clutch, and that's gonna be all she wrote!

Aaron Brown: The anguish on God's Face... the excruciating pain of having your Holy Head wrenched upward while your Back is forced downward... it's unspeakable.

Bob Costas: From there, it was only a matter of time before God taps out, but that's not enough....

Gene Oakerland: He's signalling the Choirs of Angels! He couldn't possibly... Yes! He wants five! He's going for the five count! Oh me oh my!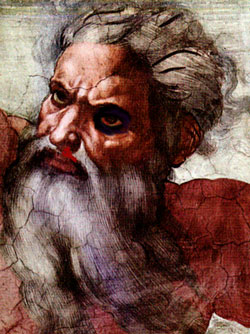 God, shown above with a nasty shiner and bloody nose, was taught a lesson by beloved author of The Spoonbender after ignoring his warnings and creating a third northern California earthquake in as many days.
Analogcabin @ 1:07 PM
Permalink |
-------------------------