Tuesday, December 16, 2003
For every Earth shattering breakthrough that's made at MIT, I'd bet there are thousands of these. I don't mean to suggest that it's not worth the trade off. It's just that I wonder whether the guy doing the world's biggest book research feels like an idiot in the faculty lounge.

LEVINE:
"Hey, Hawley! Long time no smell, dude...."

HAWLEY:
"Hi, Jeff. How's it going?"

LEVINE:
"Oh, pretty good. You know. Same old, same old. Gettin' close to finishing up on that whole DNA computing project. I've been tinkering with cloning vital human organs from my own genetic material on the side and, you know, incubating them in old freezers with de-activated plutonium. Then there's this hot little Sophomore quantum physics major that I'm advising. We've been focusing on her black hole, if you get my meaning. You?"

HAWLEY:
"Um. I don't know. I was, like, printing out some stuff on that really big printer in the computer lab the other day... it's, like, inkjet or something. Anyways, so I, like, printed out these really big pictures, you know? In color and everything. And I was thinking that I could do a bunch of them. I mean, it takes a ton of ink, but I'm pretty sure I could make a really big book, you know? I mean, really big. Maybe the biggest one ever."

LEVINE:
"Sweet, Hawley. Sounds awesome. What you got there? Pudding?"

HAWLEY:
"Yeah. Chocolate. My favorite."

He takes the pudding.

LEVINE:
"Great. Now get yourself some."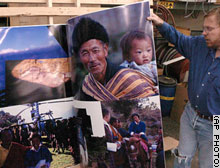 Biggest Book Author, Hawley, Shows Off His Stupid Work
Analogcabin @ 11:56 AM
Permalink |
-------------------------