Monday, December 22, 2003
Don't get your hopes up, America. Martha Stewart, a woman far colder and whiter than the whitest Christmas, declared that this will be "worst holiday ever." At least there's a place for coal in the Bush energy plan.

Undisputed master of the non-sequitur, the celebrity rimjob, and marriage Larry King scored an exclusive interview with Stewart, which airs tonight on CNN. In it, Stewart discusses her legal troubles, no doubt with the superiority she's known for and the lack of candor King demands. Not only did Stewart declare this Christmas "the worst ever," she went on to say that the season is "an unwelcome time for [her.] Very unwelcome." It's not certain whether Stewart's blanket rejection of the holiest day of the Christian year and implied disavowal of the celebration of the birth of Jesus, God's only Son and personification of redemption and love, is a result of her being an unfeeling succubus whose veins are filled with caustic sputum from the mouth of The Great Deceiver himself.

The news that this will be the worst Christmas ever is doubly upsetting, as the world is still reeling last week's announcement by Scandinavian fish lover Henrik Flintegaard that December 17 was "the worst day ever."

Tomorrow, I leave for vacation. Posts will be sporadic, but each missive will be delicately wrapped and yule-scented. They may be the only semblance of the Christmas joy you feel this year. Thank Martha and her vagina dentata for that.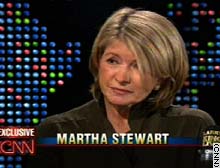 Media Magnate/Succubus Martha Stewart Ruins Christmas.
Analogcabin @ 11:35 AM
Permalink |
-------------------------