Wednesday, December 03, 2003
By now you've all heard about Cincinnati's late, great 350 pounder Nathaniel Jones -- the man whose death will be ruled a homicide at the hands of the police, despite his poor health and drug use. This article contains something about Nate you might not know, however -- nightstick limbo wasn't the only dance he was doing in the White Castle parking lot that fateful night.

What exactly am I talking about? I can't put it any better than CNN:

The video, shot from inside and outside the White Castle restaurant, showed Nathaniel Jones greeting a friend inside the restaurant early Sunday morning, and then dancing briefly. He then went into the parking lot, where he continued to dance and march like a soldier. Later, he fell down and rolled down a hill.

So I know I'm not alone in demanding the release of this video. I don't even care about the beating part. I'd pay good American money for uncut surveillance footage of a 350 pound man dancing, marching like a soldier, and rolling down a hill outside of a White Castle. Fat guys rolling down hills? That kind of thing is the soul of comedy.

If you've been to White Castle you understand that Nate Jones would be the perfect White Castle version of Subway's Jared. No one that eats at White Castle has delusions of weight loss; they just want a good time late night. Am I right? So what says good time? A big fat guy blowing a couple rails of coke, grabbing some sliders, meeting friends, dancing, marching, rolling around, and smoking some angel dust, that's what.

Unfortunately, he died. Whether it was at the hands of Cincinnati's finest or as a result of the volatile combination of high blood pressure, PCP, cocaine, and steamed mini hamburgers doesn't really matter. We've all lost the greatest fast food spokesman that never was.

I hope we don't remember Nate how he died -- squirming around that White Castle parking lot, trying in vain to hide his gigantic frame from the officers' blows. Let's remember him how he lived -- dancing around that White Castle parking lot, his belly full of sliders and his blood full of yayo.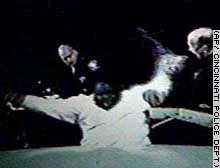 Analogcabin @ 11:47 AM
Permalink |
-------------------------